Seasiders take victory after skipper's century
Friday 5th August 2022 9:00 am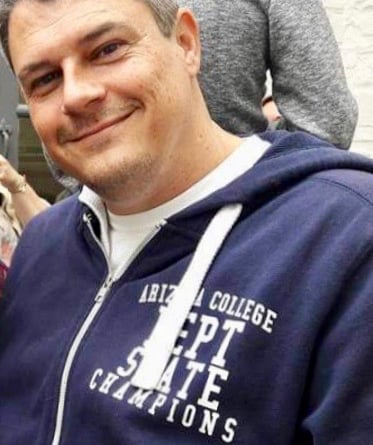 Steve Brown Picture: Paul Sussex
()
Subscribe newsletter
Subscribe to our email and get updates right in your inbox.
SKIPPER opener Steve Brown struck a century for Abergavenny 2nd XI at home to Sully Spartans, but the league-leading seasiders chased down the 252-6 target with 17 balls to spare, reports PAUL SUSSEX.
The hosts batted first in the south East Wales division 5 fixture, and it looked like the same old story as they soon found themselves 35-3.
However Brown and Geraint Adlam had other ideas and put together a partnership of 161 for the fourth wicket, when Adlam was unfortunately run out for 67 after scoring his best innings of the season.
Brown batted on and registered his first century of the summer and his highest score since June 19, 2021, when he made 120 against Pontypridd, firing 12 fours and two sixes before holing out for 103.
Nathan Holley chipped in with 16 not out as Aber made 252-6 in their 45 overs, which against the league leaders was very impressive.
Abergavenny's bowlers then stuck to their task, with two of the bowlers making their 2nd X1 debut, but only Ryan Pugh with an economy rate of 3.89 was able to keep the runs at bay.
Despite losing wickets and being around 130-5 at one time, a number of the Sully batters made significant contributions, four of whom boast strike rates above 100 runs per 100 balls.
Their skipper Adeed Khan was one, who was there at the end on 75 not out as Sully reached 253-6.
For Abergavenny there were two wickets for Richard James and one wicket each for Dylan Beaumont-Welsh, Ryan Pugh, Lee Flynn and Jack Ryan.
The result leaves Abergavenny seventh, and this Saturday they face sixth-placed Radyr CC away.
Meanwhile, rain won the day at Tondu as Abergavenny 1st XI's game was washed out after only 15 overs.
A delayed start at 1.40pm saw Tondu win the toss and bat, but after two overs the covers were back on as it rained again.
They restarted, but the wet made it very difficult for the Abergavenny bowlers to grip the ball, which Tondu took advantage of to reach 74-0 off 15 overs when the rain intensified leading to the teams coming off again.
This time it was for good as the match was abandoned, leaving Abergavenny eighth with seventh-placed Croesyceiliog at home next this Saturday.
Hosts Usk were too strong for Abergavenny 3rd X1 in a Division 10 third v fourth derby, despite a half century for Tom Krige on his seasonal debut.
Opener Henry Allott struck an unbeaten 109 for Usk to help guide them to 288-3, backed by Damian Harvey with 58 and Finlay Robertson with 52 not out.
There was one wicket each for Craig Whistance, Ryan Jones and Archie Eccles.
In reply, Aber reached 199 before being bowled out in the 34th over, Ross Price taking three wickets and Harry Goddard two.
The contrast in the opening pair was a significant one with 14-year-old Krige paired with Wales 70s and club stalwart Ryland Wallace.
Krige with 56 top scored, supported by Will Jones with 21, Ryan Jones with 46, and 12 runs each for Lee Fury and Sugunesh Nanjan.
Despite dropping a number of catches in the field, it was a spirited performance but it was to no avail, with Usk now third and Aber, who play Pontymister & Crosskeys CC away on Saturday, now fourth.
In another derby, the tale-topping 4th XI cruised to yet another victory at home to Glangrwyney 2nds.
Glan were inserted and reached 38 with no hiccups, before promptly then losing two wickets without addition.
They lost their third wicket at 74, then lost further wickets before finishing their 40 overs on 127-7, Hywel Price scoring 27, James McIlroy 25 and Simon Hindle 21.
Sugunesh Sheehan took 2-18, Eoin Shackleton 2-28 and Owain Bradley 2-25.
It was also good to see youngster Olly Jones having a bowl in his first competitive game for Abergavenny, his five overs for 11 runs auguring well for the future.
In reply, Aber lost their skipper Stuart Eccles for 27 with the score on 53, which brought together Lloyd Sharp and Satish Rohra who put on 70 runs together before the latter holed out for 39 in the 19th over (123-2).
Abergavenny needed just five runs for victory and Jones with a single and top scorer Lloyd Sharp with a season's best 49 saw the team home for an emphatic eight-wicket victory with 20.3 overs remaining.
They are at home again on Saturday to Rogerstone CC.
* MONMOUTH School for Boys will be hosting a Glamorgan County Cricket Club fixture on its picturesque playing fields next week.
Glamorgan will be playing a one-day 2nd XI fixture against the South Asian Cricket Association on Thursday, August 11 (starting at 11am).
The match is part of an exciting ongoing partnership between Haberdashers' Monmouth Schools and Glamorgan.
In 2019, Monmouth School for Boys hosted its first Glamorgan 2nds matches since 1996 with fixtures involving Worcestershire and Essex.
Comments
To leave a comment you need to create an account. |
All comments 0