Pennies ready to roll
Saturday 30th July 2022 9:00 am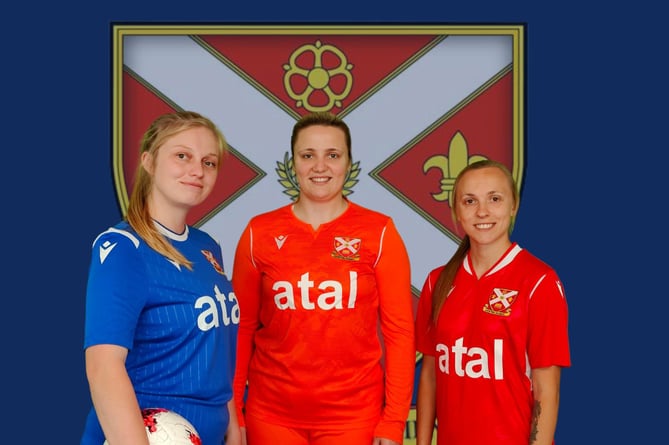 Subscribe newsletter
Subscribe to our email and get updates right in your inbox.
AFTER an extraordinary 2021/22 season, the Abergavenny Women FC team is refreshed and keen to kick-off with a first pre-season match at Pen-Y-Pound this Sunday, reports ANDREW KENNEDY.
The excitement of winning Adran South in 2021/22, lifting the trophy and gaining promotion crowned a year in which the Pennies flourished on the pitch.
The team will line up in new strip, adorned with the name of new sponsor Atal Structural Waterproofing Systems, while there are some new faces to embark on the challenge of Adran Premier competition.
And what lies ahead will be a much tougher challenge each week, so the pre-season opposition is to a high standard.
On Sunday (kick-off 2pm), the Pennies line up against Cheltenham Town Ladies FC – the FA Women's National League Division One South West & Gloucestershire FA Women's Trophy Champions, who won 2-1 away at Cardiff Met last Sunday.
The close season has included a trial day for U19 and senior players, as well as a day of open training for the youngest side.
And as a result, all three Abergavenny WFC squads have new talent on the books.
It is now proven beyond doubt that there is an active pathway where excellence in the U16 squad can be rewarded with U19 opportunities, and likewise some thriving U19s have gained time in the senior squad.
Such chances inevitably lead to players signing on that wish to play at the highest level of women's football in Wales.
Four of the club's teenagers have come up against international competition in the last fortnight, most recently last Sunday when (after trials), two of the youngest contingent – goalkeeper Charlotte Smith and forward Megan Stanton – were selected to represent the Boys & Girls Club of Wales in a Scotland v Wales U17s fixture.
Further afield, at U18, Olivia Barnes and Neve Speicher have been playing for This Girl Kicks in the Gothia Cup in Sweden, the Midlands-based side winning its group stage with a 100 per cent record and reaching the elite eight.
So far there are three newly signed players for the AWFC senior squad – forward Lisa Bird, centre back Scarlett Teague, and goalkeeper Beth Owen – respectively as a free agent after time away from the game, from Westfields FC, and from Caldicot Town AFC.
Team boss Craig Morgan-Hill said of Lisa: "I've had a few conversations with Lisa over the past few years, but due to other commitments we've been unable to get the signing over the line.
"I'm chuffed we have managed it. Strong, quick and an unreal attacking player, I've already seen glimpses and can't wait to see her hit the ground running."
Lisa says: "I've played football since I was a kid.
"I started my career at Cardiff City Ladies and progressed through the youth ranks before making my senior debut at 16 in the English leagues.
"At Cardiff City Ladies I represented Wales at U19s 15 times and was called up to the senior squad for a camp.
"As a massive Cardiff City fan, when they formed a women's team I wanted to wear the Bluebird, and I played for them for four years."
After three years out for work, she adds: "I've decided I don't want to miss the opportunity to play a few more seasons and Abergavenny is the perfect fit for me at this time in my life.
"I spoke to the manager and a few of the girls and it was a no-brainer. Abergavenny is a club that shows great ambition and is now back in the league it belongs in. I want to help the team improve and challenge to win silverware."
On Scarlett, a veteran of the Herefordshire, Welsh and Gloucestershire leagues who has been playing since eight, Craig said: "We'd been keeping track for some time when we were made aware of her potential.
"At the trial we saw a player we knew would add to our team and someone we can develop. She's young and eager and I can't wait to see her in action.'
Scarlett said Abergavenny gives her the chance to play at a higher level, which will challenge her to improve her game.
"The professional coaching at Abergavenny has already been beneficial for my personal development.
"I hope the coming season will bring both myself and the team new positive experiences."
Goalkeeper Beth is a former Penny, and Craig is "delighted" to welcome her back.
"Having played against us last season it was clear what a good keeper she is, making several top draw saves.
"I am looking forward to seeing Beth push Charlotte and Marnie all the way for that No 1 spot.'
Beth says: "I was at Villa Dino U16s first, then PILCS, and then Abergavenny.
"After a few great seasons at Aber I went to Caldicot, and then decided to make my way back to the club that started it all (at senior level).
"It has reignited my passion for football and I can't wait to start the season."
Sunday's match against the Robinesses is open to all – there is no entrance fee although a donation is appreciated.
Craig says: "I'm looking forward to the season but firstly to a solid pre-season against tough opposition."
Abergavenny WFC have four more pre-season matches booked: August 7 – Pontypridd United (away); August 10 – Cardiff City Ladies (home); August 21 – Cascade (away); August 28 – Swansea University (home).
Adran Premier matches get underway on the first Sunday in September.
Comments
To leave a comment you need to create an account. |
All comments 0