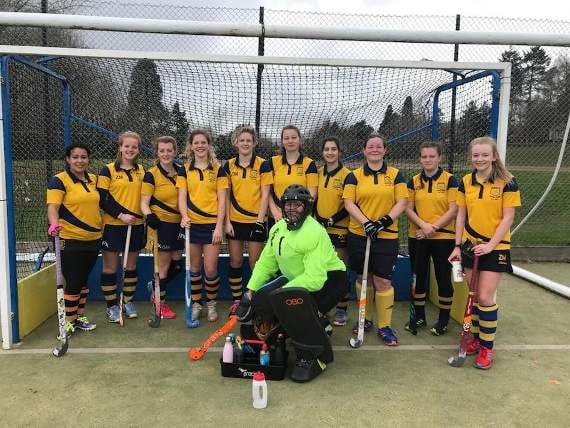 Subscribe newsletter
Subscribe to our email and get updates right in your inbox.
"Super Saturday" saw all three senior league teams from Abergavenny Hockey Club playing at home for the first time in the second half of the season.
The ladies first team went to head to head with the Rhondda ladies. From the first few minutes it was going to be a tough game for the home side. Abergavenny's defence was tested early on, then the team settled and started to play the ball through the midfield and into the opposition's half.
Both teams entered the second half on equal footing, but another test of Abergavenny's defence led to a goal for Rhondda. Chasing the game, Abergavenny stepped up the intensity and created many opportunities to get a point on the score board but despite their efforts Rhondda took the 1-0 victory.
The ladies second team took on top of the league Cardiff Medics. It was a tough game but the home team took the 12-0 defeat in good spirits and were excited to field three new players for the first time, as well as celebrate the goalie's fabulous 40th.
Abergavenny men, luckily, had found a sprinkling of magic dust in the bottom of their hockey bags, scoring half a dozen against Evesham & Badsey. The game started well, with marauding runs from Andy Banks and Alex Francis playing in the midfield and up front and it wasn't long before the first six goals. By half time Banks, Francis, and Taliesin Martin were all on the score sheet.
Second half was pretty much the same, with the Abergavenny defenders struggling to keep warm. A very unselfish pass and move from Luc Greaves let youngster Sam Evans taste the glory. The team are living the dream this week with a sublime performance.
Under 13 boys remain unbeaten, scoring 2-2, 2-0, 3-0, 1-1. James Loose and Ieuan Davies scored (Ieuan from left back!) Nate Corken made some brilliant saves versus Whitchurch, and the defence was absolutely rock solid. Passing and movement in the middle was great, especially Rhys Davies's reverse slip to James Loose for the goal. Special bonus point to Rachel for some well organised sandwiches.
Under 9s travelled to Cwmbran Stadium for another of their monthly tournaments. With lots of passes and tackles Abergavenny really gelled together. Narrowly losing their first game, they came off the pitch with energy and determination, leading to a draw and a win in their other matches. With their play improving through the morning Abergavenny scored lots of goals and worked well together as a team. The club would like to thank the players' parents for bringing them to the tournament.
Comments
To leave a comment you need to create an account. |
All comments 0