Remains of bodies found at disused chapel are finally reburied at Llanelly cemetery
Wednesday 4th May 2016 9:37 am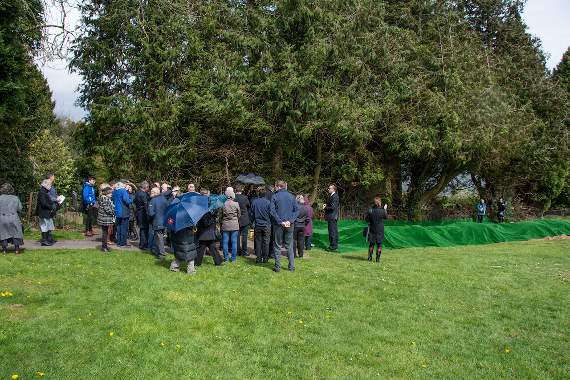 Subscribe newsletter
Subscribe to our email and get updates right in your inbox.
On Thursday, April 28 2016, Gilwern residents gathered to pay their respects to 62 people, men, women and children who were reburied at Llanelly Parish Church Cemetery.
The remains of those laid to rest were removed last year from the grounds of the long-time deserted Lion Terrace Chapel, for the scheme to dual the Heads of the Valleys Road between Gilwern and Brynmawr.
Lion Terrace Chapel was built in 1838 and the earliest of 30 gravestones moved in the 1960s for the original Heads of the Valleys road, was inscribed 1841.
The chapel has been closed for many years possibly even before the start of the Methodist Union in 1932 - although it was open in 1914 when it was reported that it had been subject to a terrible fire which caused £150 worth of damage.
Since being closed it has been used as a garage, a forge and as premises for a sign writer before becoming derelict and abandoned completely, virtually invisible to the heavy traffic that passed it on the A465 for years.
It was originally thought that only ten graves remained at the chapel however once exhumation began it soon became clear that there were many more buried there and the remains of 62 people were eventually recovered.
My family home of 30 years, is situated on Old Trap Lane just 300 yards from the chapel, so I, along with my family and our neighbours, was particularly moved by the findings and keen to attend the service last week.
Iris Bland grew up in nearby Prospect House and remembers the chapel from the days when her mother Mrs Bush used to take classes there, which she and her older sister attended. Iris and husband Jack have been Gilwern residents now for over 50 years.
One woman attending said she had passed the site on her way home to Llanfoist from work every day for many years, oblivious to the fact that it was once a chapel.
She had felt so moved by the discovery she felt compelled to attend and pay her respects, a feeling that resonated amongst the community.
I spoke to Mick Rawlings, Technical Director of Historic Environment at RPS Group the archaeologist in charge of the process who explained how sensitively the process was handled by Costain Ltd.
"Once we began the delicate business of exhumation it was very quickly apparent this was much more of an undertaking than we originally had thought," said Mick.
He explained that the extra graves he discovered, spanned approximately a 60-year period and were tightly packed together.
Many of the bodies were of children aged between two and four years of age and several of them had been double burials.
The bodies were carefully placed into caskets one by one as they were recovered and taken by private ambulance to a chapel of rest until they could be re-buried as they were on Thursday.
Many of the grave stones that once stood in the grounds of the church havebeen stolen over the years, but the remaining five did have names eligible - these included a Thomas Watkins who died aged just 10 months old on March 1, 1847 and Benjamin Watkins who was just 14 months old when he died on October 14, 1870.
Unfortunately, there are no further records of who was buried there but it is thought likely that they are simply local people who died naturally during an epidemic or through accidents and natural circumstances common in the 1800s.
Civil registration was not introduced in the UK until 1837, and prior to that parish records are usually the best source of information for baptisms, burials and marriages - unfortunately the records for Lion Terrace Chapel were destroyed.
In the 19th Century it would have been unlikely that many people could afford coffins so they had been buried in cloth and without possessions as in Methodist beliefs, so there were few clues to go by as to identity.
Another theory is that as people were poor and could not afford a burial on consecrated ground they were buried in secret during the night which also may explain how they were found so tightly packed in.
In the 1860s an average cost of a working man's funeral would be £5 when an annual salary was about £20.
To ease the financial burden of funerals people often paid a penny per week into a burial fund however many poor families could not afford a funeral hence there would have commonly been many unmarked graves especially during epidemics of disease such as typhoid, cholera and influenza where family members would be buried together.
A booklet is being produced by the Heritage Group with more details and this will be offered to local schools and libraries.
Phil Baker, Public Liaison Officer for Costain Ltd said he had hoped that he could find a link as to the identity of people who lived in the area at that time.
"As soon as it became apparent that gravestones existed at the chapel, local people began expressing their concern about those who were buried there" he explained.
"We did everything in our power to find the families of the dead from the five remaining headstones, publishing several public notices, but nobody came forward" he explained.
Phil even looked at ancient registers from the local Clydach School where children attended but sadly found a gap in these registers after the 1840s when disease probably decimated the population.
Costain provided transport to the church and refreshments for the people attending the service on Thursday, many of whom were visibly moved by the event.
People who had come from surrounding villages to pay their respects stood solemnly forming the congregation in the ancient churchyard and a shared responsibility to those laid to rest to give them a peaceful re-burial resonated silently.
Rev'd Dr Stephen Wigley, Chair of the Wales Synod of the Methodist Church in Britain led the service as he read Psalm 121 followed by Rev'd Catherine Lewis with a reading from Revelation 21. V1-7.
As we sang 'Love Divine', the bitter wind and icy rain cleared for that moment to welcome the sun to shine upon us as we stood listening to piper John Campbell play a fitting tribute by the trench strewn with roses, and headed by a temporary wooden cross whilst Rev'd Lewis and Rev'd Bill Jones scattered the earth.
The original remaining headstones will eventually be placed on the graves, along with a stone memorial for all the unknown who lie there.
After so many years of being hidden out of sight, blanketed by dense overgrowth and ivy, so long nameless and overlooked we pray these souls can now rest in peace no longer hidden in this beautiful forever resting place high up on the hill with the Welsh mountains that they were born in surrounding them.
Comments
To leave a comment you need to create an account. |
All comments 0