Josh is the toast of New York after Wordle is snapped up
Wednesday 9th February 2022 3:51 pm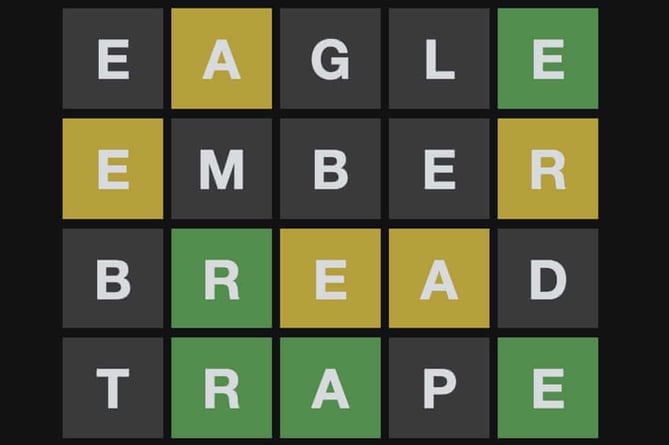 Wordle is the game that has caught people's imagination all over the world
(Pic from WORDLE )
Subscribe newsletter
Subscribe to our email and get updates right in your inbox.
A FORMER King Henry VIII student has become a global gaming star after selling his online word game to the New York Times.
Josh Wardle, a farmer's son from Llandewi Rhydderch between Abergavenny and Raglan, has reportedly been paid a seven-figure sum for his Wordle word game, which he invented during lockdown to entertain his girlfriend.
Now living in Brooklyn in the US, the 36-year-old software engineer described the success of his game as "a little overwhelming", and said it had become "bigger than I ever imagined."
Players of the online game have to guess a five-letter word within six guesses, with grey, yellow and green coloured bricks showing if guessed letters are part of the answer and whether they match the right place in the correct word.
The New York Times said it has bought the game for a price tag "in the low seven figures".
And the London University media arts graduate and Ultimate Frisbee player, who has worked for the likes of online giants Reddit and Pinterest, said in a statement: "It has been incredible to watch a game bring so much joy to so many, and I feel so grateful for the personal stories some of you have shared with me – from Wordle uniting distant family members, to provoking friendly rivalries, to supporting medical recoveries.
"On the flip side, I'd be lying if I said this hasn't been a little overwhelming. After all, I am just one person, and it is important to me that, as Wordle grows, it continues to provide a great experience to everyone.
"Given this, I am incredibly pleased to announce that I've reached an agreement with The New York Times for them to take over running Wordle going forward.
"If you've followed along with the story of Wordle, you'll know that NYT games play a big part in its origins and so this step feels very natural to me.
"I've long admired the NYT's approach to their games and the respect with which they treat their players.
"Their values are aligned with mine on these matters and I'm thrilled that they will be stewards of the game moving forward.
"When the game moves to the NYT site, it will be free to play for everyone, and I am working with them to make sure your wins and streaks will be preserved. Thank you all for playing and making Wordle an unforgettable experience."
He told The Guardian last month: "It going viral doesn't feel great to be honest. I feel a sense of responsibility for the players.
"I feel I really owe it to them to keep things running and make sure everything's working correctly."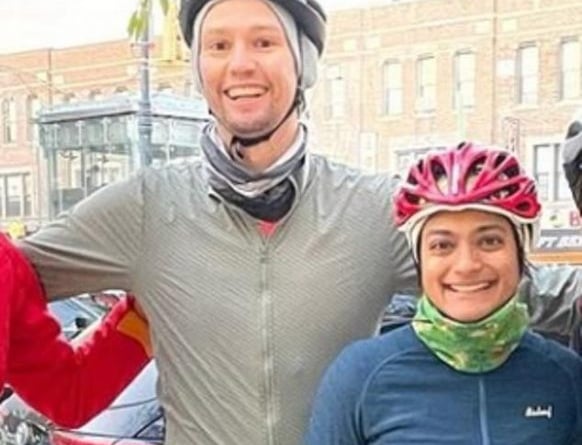 Josh originally created the game for his girlfriend
(Pic from Instagram )
Back in his small home village, which is overlooked by the Skirrid and is most well known for an ancient yew tree, farmer dad Christopher reacted to his son's success by telling the Guardian: "He's not interested in the money side of things. He just likes creating. This all got so big so quickly.
"Josh had no idea it would take off like this. I think it's come as a bit of a shock. He's a very private kind of person. I don't think he likes the attention much."
Mum Tessa said of the sale: "I think this was the best way for him to manage things."
Brother Tim, a documentary maker, posted that Josh's achievement was "big news in the Wordlesphere".
"Ironically, he decided not to do all the things you're supposed to do to make a viral hit – like allowing people to play for hours or putting a hyperlink in the sharing function. It works because it's atypical," he said.
Once solved, players are able to share their own results on social media via rows of the same-coloured bricks but with the letters removed, so others can see how they did without having the puzzle ruined for them.
Jonathan Knight, New York Times games general manager, said the company was thrilled to be adding Wordle to its portfolio and confirmed it had "no plans at this time" to change the game's free-to-play nature, saying Josh's creation was "lightning in a bottle".
Comments
To leave a comment you need to create an account. |
All comments 0