Calls have been made to further delay taking a final decision to close Llanbedr Church in Wales Primary School in the Vale of Grwyney near Crickhowell.
This is so that a talks between the Diocese of Swansea and Brecon and Powys County Council on federating Llanbedr with another school, can take place.
At a meeting of the council's Learning and Skills scrutiny committee on Wednesday, December 14 councillors looked at a report following a review of several schools that feed into Crickhowell High School.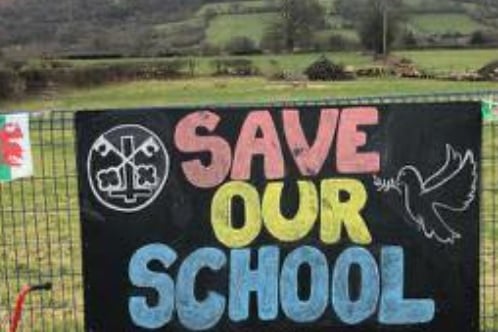 A 'SAVE OUR SCHOOL' sign at Llanbedr
(LDRS )
The original decision to close Llanbedr on August 31, 2022, had been delayed a year by the cabinet in July, to allow this review to happen as well as legal challenges to be heard.
Director of corporate services, Emma Palmer explained that officers were still of the view that the "circumstances have not altered" for Llanbedr.
Ms Palmer said that the Diocese of Swansea and Brecon could have referred the closure of Llanbedr to the Welsh Government – but had not done so.
She added there had been recent "correspondence" from the diocese on federating schools.
On the original decision to close Llanbedr, head of legal and democratic services, Clive Pinney said that the council had successfully defended itself at a judicial review that had been heard by two high court judges.
Cllr Adam Kennerley said: "The officers have made it very clear that there's no room to manoeuvre from their position.
"What I am looking at is a very clear statement from the church that they want to actively explore federation with the council.
"That seems to be a new position, so there is a justifiable reason to delay.
"What we have received from the Church in Wales is the opening of the door that allows us to look at federation and challenges the point that nothing has changed."
Ms Palmer said: "Nothing has changed substantially other than the diocese at the eleventh hour has decided that they maybe should have done something that they didn't.
"I'm sure the diocese would be held to account on that by the public and those who attend the school, it's not a matter for us as an authority."
Cllr Kennerley asked that the committee add a recommendation to the cabinet report on Llanbedr – that talks with the diocese should be encouraged as they "bring a significant player back to the table".
His call was backed by fellow Liberal Democrat councillors Danny Bebb and Corinna Kenyon-Wade.
But several other members of the committee believed that it is too late to stop the process.
Conservative group leader, Cllr Aled Davies said: "I would strongly disagree with Adam, and back the recommendation, officers, courts and everybody else are happy and content with it."
Cllr Lucy Roberts added: "It's too late to go back and look at it again."
A vote to add Cllr Kennerley's amendment the committee's recommendations to cabinet took place and this was narrowly lost by six votes to seven.
Earlier, education portfolio holder Cllr Pete Roberts had explained that "although the focus was on Llanbedr" – this was the first report on the new cluster centred approach to school transformation that has been adopted by the Liberal Democrat/Labour cabinet.
Cabinet is set to decide on Llanbedr at their meeting on Tuesday, December 20.
If they agree, Llanbedr will close on August 31, 2023.