A van driver who caused the death of two young children in a crash on the M4 has been jailed for nine years and four months.
Martin Newman, 41, appeared at Cardiff Crown Court on Friday 8 April after pleading guilty to two counts of causing death by dangerous driving and one of causing serious injury by dangerous driving.
Jayden-Lee and Gracie-Ann Lucas, from Tredegar, had been travelling home with their parents from a birthday party on Saturday February 5. They had stopped on the hard shoulder on the M4 near Tredegar Park when they were involved in collision with a white Ford Transit driven by Martin Newman.
Following the crash, four-year-old Gracie-Ann died in hospital the next day, and Jayden-Lee died from his injuries the following week. Their mother, Rhiannon Lucas, was also seriously injured in the crash and spent nine days in hospital being treated.
At the hearing at Cardiff Crown Court, Newman also pleaded guilty to driving a motor vehicle when above the legal alcohol limit and driving with a proportion of specified controlled drug above the prescribed limit.
He was sentenced to nine years and four months in prison – the maximum sentence the judge could pass given the defendant's admissions of guilt – and was disqualified from driving for 14 years and eight months.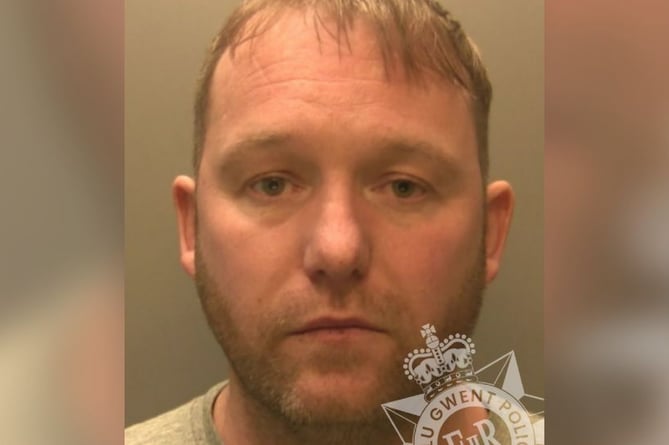 Martin Newman was jailed for nine years and four months
(Pic from Gwent Police )
Following today's sentencing the family of Gracie Ann and Jayden Lee Lucas have issued the following statement:
"On Saturday 5 February, Martin Newman devasted our family by taking our two beautiful children, Gracie Ann and Jayden Lee.
"Our family home now feels like an empty shell without them and the love and happiness they brought us cannot ever be replaced. Our lives have been destroyed.
"He chose to drive his vehicle under the influence of drink and drugs and these actions displayed a total disregard for anyone's safety and we have paid the ultimate price for his unlawful and unsociable acts.
"We hope today's sentence will act as a deterrent to anyone who may consider driving in a dangerous manner especially while being intoxicated through drink and drugs.
"No prison sentence that a court can impose will ever be enough and will never bring back Gracie Ann and Jayden Lee back.
"We would like to thank the Welsh Ambulance Service, Wales Air Ambulance and University Hospital of Wales for their professionalism and expertise which gave the children the best possible chance of survival with the upmost compassion.
"Furthermore, we would like to thank the investigation team at Gwent Police in their determination to bring Newman to justice with the overwhelming evidence that they have presented to the court and the support we have received from them.
"Our heartfelt thanks must also go to the community of Tredegar and wider Wales for the help and support we have received from day one of this tragic incident."
Sergeant Leighton Healan, the family liaison officer, said:
"This is a tragic case that has resulted in the needless loss of two young lives.
"Newman's reckless actions highlight the real dangers of irresponsible driving, which can have such a devastating impact on other innocent road users.
"He was left with no option but to plead guilty owing to the overwhelming amount of evidence gathered by our investigation team.
"Our thoughts remain with the family at this time."