Abergavenny Pride's new pop up event made an appearance at Usk Pride on Saturday, August 26.
Out of the Closet is a safe space where people can come along and try on clothes donated by the community and explore their gender identity.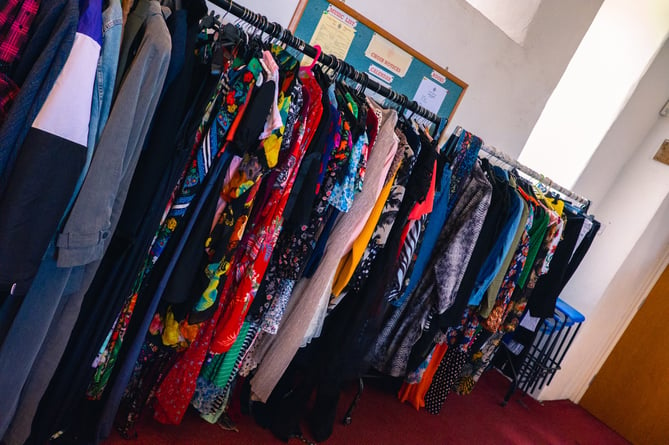 (Photos by Kim Partridge www.brokedollimages.com)
The idea came from a visit to King Henry School VIII, where the team at Abergavenny Pride spoke to young people about what they wanted to see at their pride. 
A spokesperson from Abergavenny Pride said: "With the help of the local community, we were able to create a safe and inclusive space. We put a call out on local Facebook pages and our own socials asking for donations of good quality clothing, shoes and accessories, and we were inundated with donations. We were able to fill rails and tables of items, for all ages, sizes and genders. 
"Without this support, Out of the Closet would not be possible. It shows how our local community stands with us and that is something to be really proud of."
Initially, Out of the Closet was only created for Abergavenny Pride in June this year but the team were approached and asked to host it at Usk Pride after seeing how successful it was. 
"To work together with other pride events is really good for our community and one again shows the vital work that is still needed." The spokesperson added. 
"Feeling comfortable in your own gender identity and being able to show your authentic self is so important, but unfortunately there are so many environments out there where this is not possible.
"We are so proud to be able to create this environment for those that are exploring themselves and need a safe space to do this.
"From the hundreds of people we estimate used the area, we see how needed it is."
Ruby and Dave who manned the area on the day recalled how "inspiring, joyous and emotional" the day was. 
(Photos by Kim Partridge www.brokedollimages.com)
The event was entirely free due to the volume of clothes donated. If someone found an item they liked, they could take it away for free. 
If your interested in Out of the Closet for one of your events, get in touch with Abergavenny Pride, [email protected].