Abergavenny CC's unbeaten 1st XI batted first at home to Miskin Manor with some cloud cover and a threat of rain which didn't materialise during their innings, reports PAUL SUSSEX.
The South East Wales One leaders faced their full allocation of 50 overs but as it turned out to no avail.
They found runs, in particular boundaries, difficult to come by and in the 17th over were 68-3 with Andrew Jones (24), Tom Pipe (12) and Will Glenn (20) all out.
Thirty runs later Tom Norton was also out for 17 leaving James Francis to bat with the middle and late order.
He did this magnificently, but Abergavenny still found themselves 172-8 with 13 overs still to be negotiated.
Francis then found a willing partner in David Clarke and they put on an unbroken 55-run partnership to finish the 50 overs on 237-8, with the former scoring 85 not out and the latter an unbeaten 23.
Abergavenny couldn't have got off to a better start in the field, as Norton's first ball produced a 'worldy' catch in the slips from veteran opener Jones.
Tom then took his second wicket in his fifth over (2-17), but with just seven more runs added, the heavy rain came and the game was later abandoned.
Abergavenny retained their 'invincible' status but with three games to go their lead was reduced to 57 points
The team was – Will Glenn (Capt), Andrew Jones, Tom Pipe, James Francis, Tom Norton, Joe Harris, Owen Harris, Greg Fury, Sam Clarke, Dave Clarke, Lewys Wilkes-McCarthy. Officials Sandesh Kamble & Guy Parker.
The 2nd XI's final SEW League 6 game away to Mountain Ash 1sts was cancelled due to the weather, with Aber finishing third.
Abergavenny 3rds were put in at Crickhowell by South East Wales 10 visitors Penarth 4ths, and batted really well to amass 261-6 in their 40 overs.
And they were well on top when the game was abandoned with Penarth 90-6 off 21 overs.
There was a well-deserved century for Nathan Holley (109), and a half century for skipper Lee Fury (50), while Craig Lenane (24), Mark Withey (23 not out) and Dylan Beaumont-Welsh (15 not out) also contributed.
When Penarth batted, Chai Sanapala returned very good figures of 3-14, and there was a wicket for Ryan Pugh and two run outs.
The result meant the 3rds finished in seventh place.
The 4th XI away at Llanarth batted first and scored 185-9.
There were some good scores for Satish Rohra (32), Stuart Eccles (51), Muhammad Usama Ali (42) and Joe Fairbank (12).
But Llanarth made light work of chasing the target, scoring 186-2 in 28 overs, with Nick White firing 70.
The 4th XI have struggled with their bowling which has lacked consistency, but all 27 different bowlers called upon tried their best, and they finished in a very respectful fourth place in SEW 12E.
Abergavenny CC Stalwarts – 
club president Richard Brown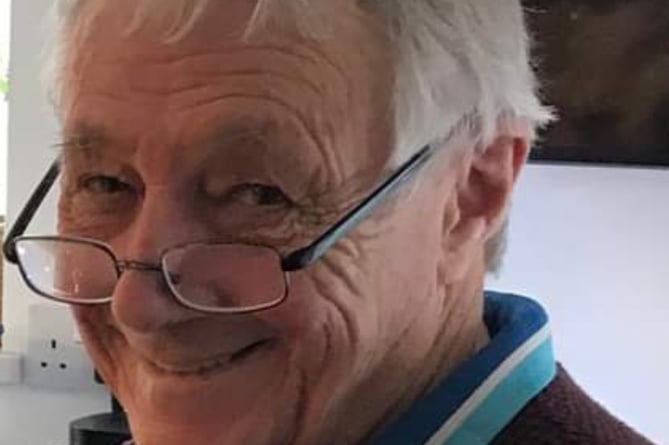 Abergavenny CC president Richard Brown
(Abergavenny CC)
Currently 'Dick', or 'Fletch' as he is affectionately known, is Abergavenny CC president, a post he has held since 2019.
The honour of becoming president could not be bestowed more fittingly to a man now in his 52nd year with the club.
An Englishman by birth, but an honorary 'Welshman', he was educated in Hammersmith at Latymer Upper School and later Bristol University.
He played cricket for Thames Ditton Wanderers and Old Latymerians and rugby at school and university.
He joined Abergavenny CC in 1972 and was a regular member of the 1st XI until 1983, during which they won the Gwent Premier League twice and the Monmouthshire Knock-out Cup.
He was also an integral part of the Three Counties League Championship winning side in 1975.
From 1981 to 1983 he was club captain and continued to espouse the 'Spirit of Cricket', something that has always been very close to his heart.
Despite being a consistent and 'correct' player scoring close to 5,000 1st XI runs, he didn't score a 1st XI century.
But the end of his 1st XI career didn't mean he stopped playing cricket, continuing for many years in the 2nds, who he captained in 1987 and was 2nd XI Player of the Year for in 1988.
He had scored a league century for the 2nds in 1979 (121 not out) against Usk and added two further tons (113) against Hatherley in 1989 and Ross CC in 1990.
By 1995 he was in the 3rd XI and won Player of the Year, and helped them win the Division 2 Title in 1997 and finish runners-up in Division 1 in 1998. In 2005 he also helped the 4ths win their championship.
He was elected vice-president in 1999, upgraded to life membership in 2007 – recognition for years of playing for the club, working on the committee, and taking on the role of Ground Chairman in 2002 until passing the 'baton' to Gareth Powell.
That same year he was voted Clubman of the Year.
Six years later, Dick his wife Susan, daughter Helen and son Steve were jointly awarded Clubman of the Year by Chairman Tony Coles.
There is probably not a more popular figure in the club, and he still follows the games at Avenue Road and recently inaugurated the President's Cup for the individual making the greatest contribution during the season.