BALA Town have made history by winning the Nathaniel MG Cup for the first time in their history.
And they did it the hard way, winning the match on penalties after playing most of the second half a man down against Connah's Quay Nomads who were gunning to get their hands on the cup for a third season in a row.
Manager Colin Caton said: "It's great that we've won a penalty shoot-out. We lost them against Sligo in Europe.
"We practiced them on Tuesday which I didn't agree with, but the penalties were great.
"I thought we deserved it, I don't think they had a shot on goal in the second half.
"Great desire and great everything and great to get a cup that we've never won before."
He added: "We said at half time that they were going to have a lot of possession and get balls in the box but I don't think they did.
"Mike Wilde was there as the target man but he didn't have crosses to feed on and they didn't punish us.
"They made subs, the asked questions of us but the back four were immense.
"We took a chance and put Newell and Roscrow up top. We could have sat back but we went for it.
"Kieran Smith could have gone through and scored but great, fantastic for everyone involved with the club."
The Lakesiders offered the first threat at The Rock Stadium, George Newell with a well-struck effort which beat Nomads keeper Andy Firth, but rattled the post.
The Nomads then had two penalty appeals correctly waved away by the referee after shout for handball and an incident when Jack Kenny went down too easily in the area.
The same player failed to test Bala keeper Alex Ramsay from close range in a follow-up raid before an evenly-contested first half ended with the drama of playmaker Lassana Mendes' red card after throwing the ball into the crowd.
It was a big blow for Town who were desperate to win the trophy after getting to the final two times previously.
And they nearly fell behind in first half stoppage time when Ramsay pulled off an incredible reflex save to deny Michael Wilde in the area.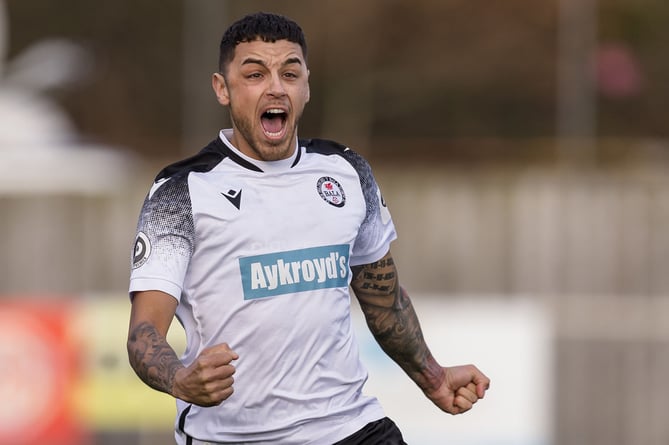 Naim Asram shows his delight after the shoot-out success
(Football Association of Wales )
Nomads had the upper hand but Bala were determined to keep pushing for the win and had two decent openigs early on when Newell found himself with a golden opportunity, but was unable to squeeze the ball past the goalkeeper before Antony Kay saw his header diverted over the bar.
Midway through the half, a surging run towards the Nomads goal by Kieran Smith finished with a shot at goal, but he was off balance and unable to direct it on target.
At the other end, Alex Ramsay had very little to do despite Nomads spending more and more time in the Bala half.
With penalties looming, Connah's Quay were also reduced to 10 men when George Horan was shown a straight red for a late challenge with three minutes of normal time remaining.
After Chris Venables and Callum Morris netted the opening penalties, Bala's David Edwards saw his effort saved by the diving Firth.
Up stepped former Aberystwyth Town player Harry Franklin to try to put Nomads in the driving seat but Ramsay made a brilliant save.
Unstoppable penalties followed by Adam Roscrow, John Disney, Antony Kay, Joe Malkin and Paul Rutherford.
It was on the shoulders of veteran striker Mike Wilde to keep Nomads in the game but Ramsay dived to his right to win the match to the delight of the Maes Tegid faithful who had travelled in their numbers to Wrexham.