All systems row as crews tackle top Tideway races
Sunday 3rd April 2022 6:00 am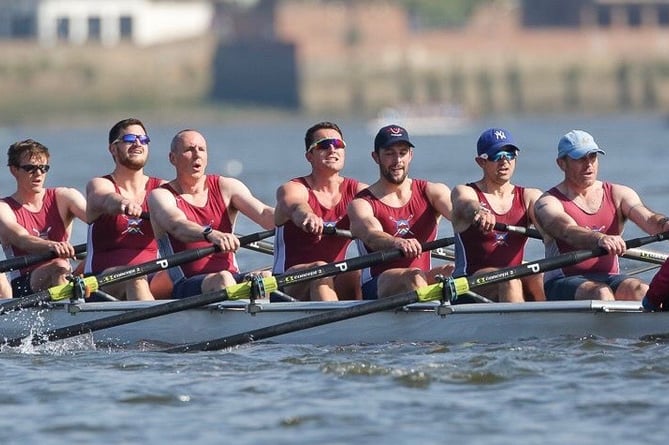 ( Ben Rodford Photography )
Subscribe newsletter
Subscribe to our email and get updates right in your inbox.
Wye rowers flocked to the Thames in London at the weekend for the oldest time-trial rowing race in the world and the masters championship 8s head.
The Head of the River Race - founded in 1925 - saw nearly 300 men's 8s race the 4 1/4-mile Chiswick to Putney reverse Boat Race Tideway stretch on Saturday in beautiful spring sunshine, while the Vesta Veterans the following day had around 200 eights and quad sculls.
It was the first time since 2019 that either event has been held, with the 2020 and 2021 races both victims of lockdown.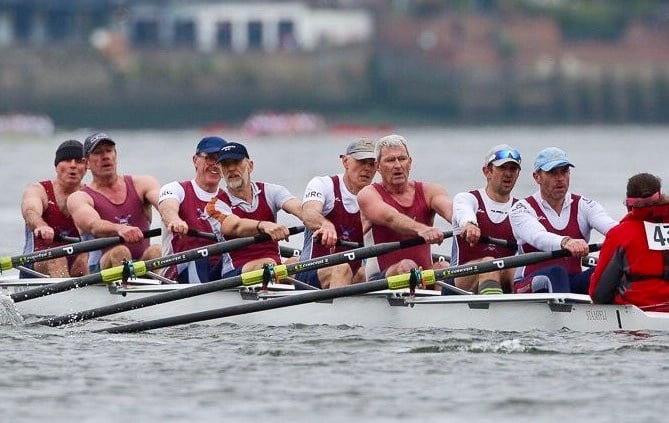 Mon RC mens masters boat
(Ben Rodford Photography )
Top Wye finisher in the HoRR was Old Monmothian Robbie Prosser-Wrench, whose Bristol University boat placed 33rd in 18 minutes 44 seconds.
Monmouth RC's crew saw an enforced late crew switch due to Covid, with influential captain Evan Whittal-Williams forced to pull out just days before the race.
The scratch over-36 Masters class crew still boated Athens Olympian Tim Male and former British quadruple scull champions Alex Butler and Louis Paterson, and covered the course in 19.45 to place 104th overall.
Swansea University just pipped them to Welsh club bragging rights by four seconds and seven places, while the Wye crew placed third in the Masters B category just 2.9secs behind the London University alumni club boat containing Rio Olympic gold medallist Paul Bennett in second, and 15 seconds back on winners Thames RC.
Overall headship boat retaining their 2019 title were the UK's top university club Oxford Brookes, fresh from beating Oxford's Olympian packed Dark Blues in a private race the previous week.
Going off first, Brookes, containing Wales Tokyo Olympic medallist Josh Bugajski, plus fellow Welsh rowers Matt Aldridge, Sam Bannister and cox Harry Brightmore, covered the course in a searing 16.59 to win by 16 seconds from Leander's boat of GB international stars.
On Sunday it was the turn of the Veterans Head, with club coach Male and Butler both pushing out for a second tilt at the championship course in Monmouth RC's Masters E (over-55) men's boat.
The crew placed a highly creditable 11th overall and second in class, covering the distance in 19.49.
Winners of Masters E were an Irish composite drawn from the best age-group rowers across the whole of Ireland, who won in 19.15, while Thames RC's over-27 boat set the benchmark in 18.23.
The Quintin/London composite containing Old Monmothian Stewart Bell took the over-50 D class in 19.28, while Monmouth were just pipped by three seconds on overall time by Upper Thames' over-50 boat and half a second by Agecroft's over-42 boat.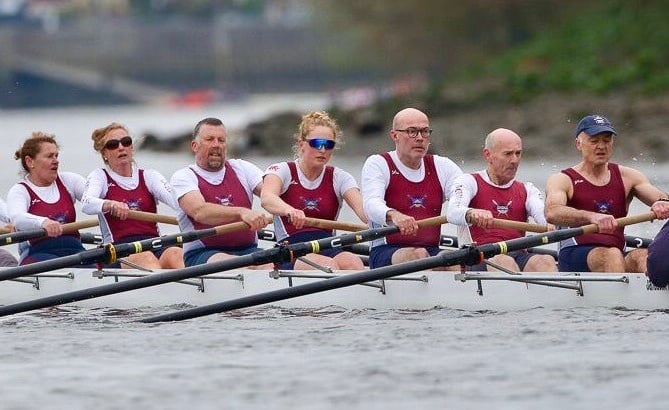 Mon RC mixed masters boat
( Ben Rodford Photography )
Monmouth's mixed over-55 eight also came second in its age category, crossing in 22.13 in 88th overall, with Wallingford taking the class win in 21.30.
And the Wye club's women's over-55 boat produced a competitive row to finish just 47 seconds back on the winning Upper Thames boat of Sydney Olympic medallist Miriam Batten.
They finished fourth out of 15 in class in 22.50, for 111th overall and 82nd on handicap, with York second in category in 22.17 and Broxbourne third in 22.31.
The Monmouth RC HoRR boat was (from stroke) – Al Butler, Tim Male, Louis Paterson, Will Moorhouse, Lenny Colling, Aaron Jarvis, Matt Winters, Simon Lee, and cox Emma Townsend.
Mon RC women's masters boat
(Ben Rodford Photography )
The Masters E crew was – Al Butler, Nick Hooton, Tim Male, Andrew Barnett, Paul Bezani, Jonathan Keyte, Mark Stewart-Woods, James Allison and cox Zach Salmon.
Monmouth's Women's ME crew was – Louise Allison, Liz Lewis, Kate Hooton, Sue Smith, Helen Tilley, Julia Cowton, Rachel Westerlund, Gabby Miles and cox Taryn Birkett.
The Mixed ME boat was – Colin Lewis, Peter Kelsall, Alex Mitchell, Kathryn Diserens, Eric Froggatt, Maggie Hickland, Dawn Brace, Gail Adams and cox Darcy Birkett.
* Wye cox Jack Tottem will be centre stage in the most famous rowing race in the world this Sunday (April 3), when he steers Oxford's Dark Blues against Cambridge in the men's 167th Boat Race.
The Old Monmothian from Devauden will be bidding to become the third former Monmouth School cox to win with Oxford, following victories by Colin Moynihan in 1977 and Laurence Harvey in 2014.
Coverage starts at 1.50pm on BBC1 with the 193-year-old men's race starting at 3.23pm an hour after the 76th Women's Boat Race.
All pics Ben Rodford Photography www.benrodfordphotography.co.uk
Comments
To leave a comment you need to create an account. |
All comments 0