Walker, 84, to take on one last challenge for charity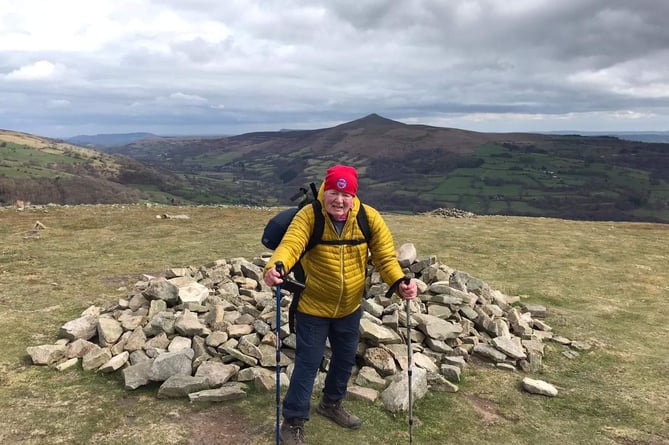 Former Parachute Regiment Soldier Ian Waddell, 84, is doing one last challenge to raise funds for Ty Hafan
()
Subscribe newsletter
Subscribe to our email and get updates right in your inbox.
An experienced walker from Abergavenny is poised to hang up his hiking boots for the last time but only after he has tackled Pen Cerrig-Calch - the highest peak local to Abergavenny – to raise money for children's charity Ty Hafan.
Former Parachute Regiment Soldier Ian Waddell, 84, has been ascending mountains for nearly 40 years having started in 1986 by running up the highest mountain in England, Scarfell Pike.
Now for his final challenge Ian will climb the 701 metres to the summit of Pen Cerrig-Calch in the Brecon Beacons.
Ian is embarking on the walk to fundraise for Ty Hafan who offer palliative care to life limited children and support to their families throughout Wales.
Ian has previously raised money for the charity by performing a fire-walk and has already received support and backing from local businesses and the community in Abergavenny.
Speaking to the Chronicle about his upcoming challenge, Ian said: "On Monday August 8 I will be attempting to scale Pen Cerrig-Calch, the highest peak locally to Abergavenny.
''Under normal circumstances this would be no big feat, but now an 84-year-old man, suffering severely with osteoarthritis It's going to be by far the greatest challenge I've had to face.
"If it wasn't for the support of sticks and a few locals who have volunteered to climb alongside me, it would be near impossible."
Having successfully scaled Scarfell Pike in 1986, Ian was soon hooked on climbing and has gone to have an incredible career that has seen him travel the world climbing mountains and competing in marathons.
Ian managed to finish in the top 10 on four occasions in the European Challenge Trail Race and also took part in the early years of the Marathon Des Sable, also known as the Sahara Marathon and regarded as the toughest footrace on earth.
Overall Ian has taken part in over 100 climbing and endurance events, raising well over £200,000 for charity. Despite these great achievements, it is a race that he organised in 1992 that Ian is most proud of.
Inspired by reading a book called Snowdonia to the Gower, A Coast to Coast Walk Across Highest Wales, Ian felt compelled to initiate a multi-day event running through the Welsh mountain.
Writing to a magazine outlining his idea, Ian was flooded with enquiries from ultra-marathon runners around the world.
Ian said: "After receiving such interest and demand for my idea, it soon became obvious that I couldn't handle this amount of attention without some financial backing, so I contacted Conoco whose HQ was near my then home in Warwickshire and after many negotiations I was allocated a whopping £32,000, not bad for an amateur mountain runner all those years ago.
"I then approached the Parachute Regiment and asked them to assist with the logistics needed for such an event, things like camp sites each night to rest, cooks to fuel us and medics to which they agreed and after 10 months of planning my idea bore fruit and in September 1992 the first race from Conway Castel to Carrig Cennen Castell took place.
"We named it 'The Dragons Back' and to this day, it is recognised as one of the toughest multi day mountain marathons in the world, still with all top record holders taking part."
Despite officially holding it's first race in 1992, the Dragons Back Race was not repeated for twenty years with fears that it was too dangerous. However the race returned in 2012 and has become a regular event. The journey is 380km long with 17,400 metres of ascent across wild, trackless, remote and mountainous terrain, and is now widely considered the toughest 6-day mountain running race in the world.
When first held in 1992, the Dragons Back Race entry fee was £10. With the race's popularity and demand growing exponentially since thirty years later entry fees for the 2022 edition are £1,399.
While Ian's Dragons Back legacy continues to thrive, he is hopeful that people will support him for his final climb raising money for a great cause.
Ian added: "With every challenge I have set myself in the years I've run mountains I have done it for a cause. Ty Hafan do such amazing work, making such a big difference in many people's lives and I am very proud to be fundraising for them once again.
"A special thanks must also go to these local businesses who have pledged to support me: Bean & Bread, Julians Taxis, Meze Me Turkish Restaurant, The Kings Arms, Alan Griffiths Contractors & Retreat Clothing.
"Anyone who is able to give some money please help me finish on a high and support my final walk and the cause I am donating to by visiting my Just Giving Page or dropping into Bean & Bread café to donate a monetary donation. Thank you."
To donate towards Ian's Just Giving page please visit the following link https://www.justgiving.com/fundraising/beyondpossible
Comments
To leave a comment you need to create an account. |
All comments 0