The Prince and Princess of Wales have kicked off a pre-Coronation tour of Wales with a visit to the Central Beacons Mountain Rescue Team headquarters.
As the Patron of Mountain Rescue England & Wales and having worked closely with teams such as this during his time as an air ambulance pilot, the Mountain Rescue community is something that the Prince holds close to their heart.
Blighted by some traditional Welsh weather, much to the amusement of the Prince who commented: "we picked the best day for the weather!"; the couple met volunteers past and present to hear about the roles they have played in rescues through the years.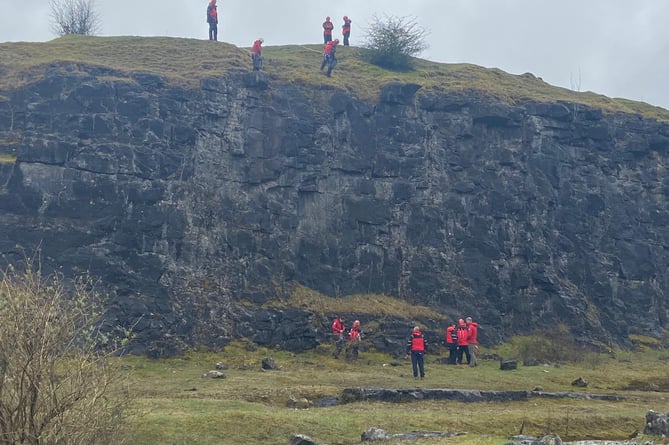 The Prince abseiling down a cliff face
(B&R)
Run entirely by volunteers, the team covers the central area of the National Park, which includes Pen-y-Fan and the Ystradfellte waterfalls. This year, they will be celebrating its 60th anniversary.
In recognition of this and to hear more about the experiences of the volunteers, the couple were invited to join members on an exercise in the newly named Bannau Brycheiniog, which saw Princess Kate showing off her abseiling skills.
The two raced down the mountain, before separating to enact a "rescue mission", in which the Princess went to locate the "victim" whilst the Prince patiently waited for instructions on the other side with a walkie talkie.
As he was briefed on the equipment needed, the Prince recognised number of volunteers from his previous visit, fifteen years ago, prompting them to discuss the changes that the team had seen since. This was interrupted when the Princess alerted Prince William to the situation at hand.
Once they had reunited, the Royal couple treated an 'injured' member of the rescue team, Lee Faulkner. A member of the team for ten years, this was the first time Mr Faulkner had met a member of the Royal family.
Mr. Faulkner talked about the "surreal moment", saying: "it was really lovely to meet them... when they put the heart monitor on me, my heart rate went through the roof! A fantastic experience."
After carrying Mr. Faulkner on a gurney back to base, the Prince and Princess proceeded to talk to more volunteers in the team's control van, before learning about the new technologies that Mountain Rescue are utilising, including a drone.
Following this, the Prince and Princess of Wales spoke to two survivors of the Aberfan disaster. Nick and Bob shared their experience on that awful day and the chaos that ensued.
In a poignant moment, his Royal Highness commented on the late Queen and how she often spoke about Aberfan. Nick responded: "it was the right decision for the Queen not to come to Aberfan as it would have distracted rescuers and taken them away from where they needed to be."
Finally, the royal couple had a group photo with the rescuers - marking an end to a day none of them will ever forget.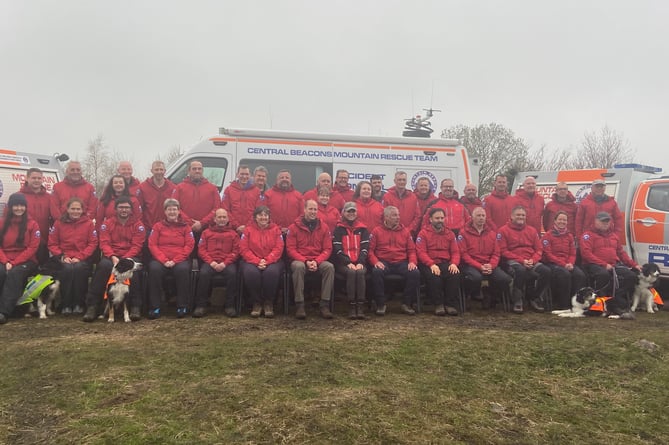 The Princess and Princess of Wales with the Brecon Mountain Rescue team
(B&R)