Schoolboy completes Sugar Loaf challenge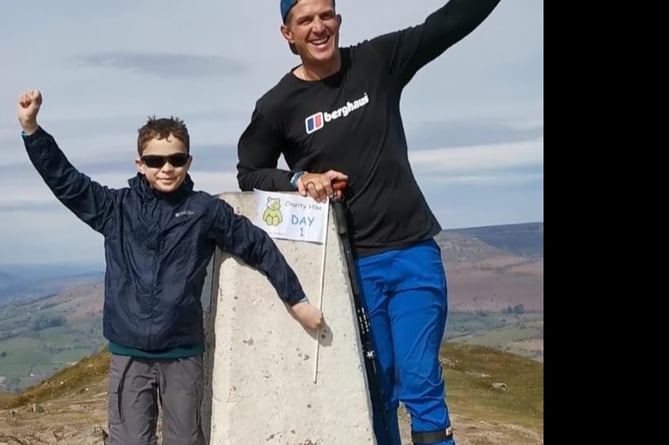 Dante, 10, with TV star Ed Jackson on top of the Sugarloaf during his mammoth challenge
(Pic from Frances Valaydon-Pillay )
Subscribe newsletter
Subscribe to our email and get updates right in your inbox.
A young boy from Raglan has raised a £1,500 for Children in Need after completing five walks in five consecutive days up the Suar Loaf mountain.
TV presenter and former professional rugby player Ed Jackson joined 10-year-old Dante Valaydon-Pillay on the first leg of the youngster's charity hill climb challenge on the Sugar Loaf a week last Monday.
The St John's on-the-Hill pupil was inspired by Ed's story of triumph over adversity after the player's life-changing accident five years ago, and completed his fifth and final trek up and down the mountain near Abergavenny on Good Friday (April 15).
The youngster set out on day one with inspirational former Dragons star Ed, who learnt to walk and climb mountains again after a a swimming pool accident left him paralysed in 2017.
Big Tackle TV presenter Ed's story, entitled 'Lucky', hit the top of the bestseller book lists last year, and the former player has forged a new career on TV, including at the recent Beijing Paralympics.
Dante first learnt about Ed as part of an English lesson topic at his Tutshill school near Chepstow.
Before embarking on his challenge, Dante decided to write to former rugby player Ed Jackson, who has climbed several mountains and set up a not-for-profit charity Millimeters to Mountains after suffering horrific spinal injuries in 2017.
After receiving Dante's letter, Ed not only responded to Dante but kindly asked whether he could accompany him on one of his walks up the mountain, which Dante accepted.
Ed's accident happened in the same year that Dante's own mum Frances had a series of strokes which left her in a six-day coma, and she too has fought back from being paralysed.
Family and friends rallied around and looked after Dante, who was only five at the time, and having received such help and now aged 10, he decided to raise money for less fortunate children.
Speaking last month to the Chronicle, Dante's mother Frances Valaydon-Pillay said: "Dante would like to help other children as he has been lucky himself with the fantastic help friends and family have given to him, and knows that other children aren't always as lucky to receive this help and support."
At 10am on Monday April 11 Dante and Ed set off on the first day of the hike.
On the day of the first climb up the 596m high peak, Dante said: "I've been looking at my mum's weather app every day to see if it will get sunny and up until the day before the weather looked bad.
"Luckily, it suddenly changed and it got sunny!"
As well as Ed, Dante - whose kit including waterproof boots and a paca mac was sponsored by Mountain Warehouse – was joined by the presenter's wife Lois, step-mum, brother, his two friends and their dogs.
Despite the accident, Ed is a professional mountain climber and went up the hardest route easily with the aid of two hiking poles, while Dante has been in training and also had no difficulty.
When they reached the summit, Dante held up his flag which said 'Children in Need - Charity Hike Day 1'.
After returning to base, Ed presented Dante with a copy of his book 'Lucky' and wrote a personal note in it that said: "Dante, congratulations on your fundraising, what an epic achievement!
"It was great to meet you, hopefully we can climb some hills/mountains again in the future! Keep exploring! Ed".
And he later posted a photo of the two on top of the mountain, saying: "Inspired by meeting this little guy today. The world needs more Dantes!"
Dante said: "I really enjoyed meeting Ed and doing our climb. He was my inspiration for trying this challenge."
The weather worsened later in the week, but the youngster added: "I'm not bothered by a bit of rain as I have my wet weather kit from Mountain Warehouse. I'm keen to get on with my challenge."
After completing fis final challenge, he posted: "All done. 5 days, more than 17 miles and 40,000 steps! I have enjoyed every moment.
"Thank you to Ed Jackson for walking with me on the 1st day, Mountain Warehouse for sponsoring my kit and all of the kind people who have supported me and donated.
"I'm so pleased and thankful. All donations will help Children in Need."
To donate go to justgiving.com and search for 'Dante Valaydon-Pillay - 5 walks along the iconic peak of the Sugarloaf, in the Brecon Beacons'.
Comments
To leave a comment you need to create an account. |
All comments 0