Mayor of Abergavenny, Councillor Tudor Thomas has expressed his disappointment that a tree planted in Bailey Park in memory of local resident Jack Caldicot was destroyed as reported in last week's edition of the Chronicle.
Jack lived in Cllr Thomas' ward and was a well known and highly respected member of the local community.
Cllr Thomas said this latest incident was symptomatic of general vandalism and graffiti which has happened over the last few weeks.
And he was so concerned that on January 21 he called together a wide cross section of town and county councillors and Gwent Police including Sergeant Joanne Torjesen and local police manager PC Elliot Morgan to discuss anti social issues.
Following the meeting police offered to increase patrols in the town centre.
The meeting heard there was a spate of graffiti issues in the run up to Christmas with the largest incident taking 51 hours for Monmouthshire County Council grounds staff to clean.
The three members of Abergavenny Town Council Town Team were also heavily involved. This has taken time and money which MCC officers should be utilising elsewhere in the town.
CCTV analysis shows hooded figures carrying out the graffiti but there is no clear image of their faces so it is very difficult to get any idea of identification.
Cllr Thomas is looking into anti-vandal paint being used on the walls at the Bus Station and White Horse Lane.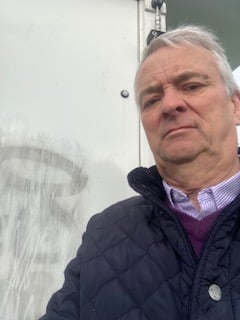 Mayor Cllr Tudor Thomas pictured in front of graffiti left on a town wall
(Pic by Abergavenny Town Council)
Other issues were discussed including general vandalism across the town over the Christmas and New Year period which saw the very popular reindeer in St John's Square being damaged, coping stones prised off at different locations and numerous incidents of glass bottles being smashed on pavements and other public areas.
There was wide ranging discussion of the use of the CCTV system in town. Sgt Torjensen suggested MCC staff review last month's footage to try to identify any culprits particularly those walking in town after doing the damage when they might well by carrying gear and not have their faces covered.
Cllr Thomas suggested a wide review of CCTV would be beneficial.
He is to ask Andrew Mason, the MCC officer responsible for CCTV to see if any MCC officers can review footage as a matter of urgency.
Bailey Park is a prime target for vandalism and the county council removed the conifers alongside the A40 to open up the area.
Money is coming from the Safer Towns Initiative for four new CCTV cameras and lights in Bailey Park, which should be in place by the end of March.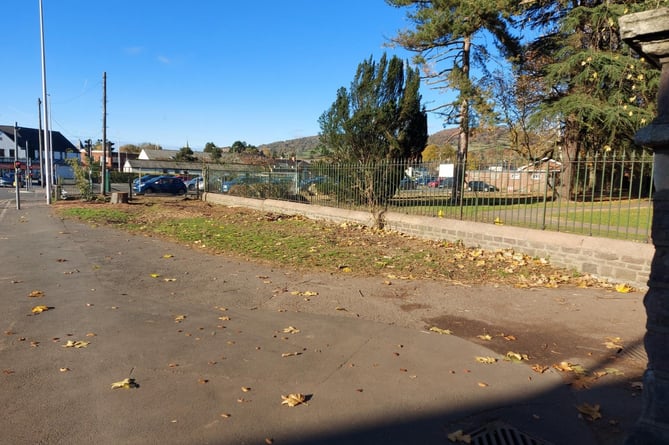 Bailey Park after some of the trees were taken down
(Pic by Jon Davies)
There have also been plant thefts in Bailey Park which are likely being carried out by adults and is endemic in the town. Contractors working on planters for Abergavenny In Bloom say Abergavenny is the worst of any towns they work in for plant theft and it is always plants with value. There was also mention of the increase in cases of egg throwing at vehicles along Tudor Street – youths who hide in the hedges and throw eggs at moving vehicles.
Sgt Joanne Torjesen reported a number of strike letters have been sent out to youths identified and located by CSOs, who are aware of the situations, and these have been dealt with. Mayor Thomas said it would be worth raising the awareness and encouraging residents to report incidents and issues to Police as soon as possible on 101 if it isn't urgent, or 999 if there is a risk to anyone. Sgt Joanne Torjensen said: "We need to get away from the attitude of thinking "someone else will report it" - 9 out of 10 people won't report an incident, but also the police can't cover everything. As long as things get reported the police can investigate them.''
PC Elliott Morgan said people can email the police and this is checked every few days ([email protected]) If something is seen that could lead to injury, call 999. All other crimes – 101. People can also message via the Facebook and Twitter pages @GwentPolice.
Mayor Cllr Thomas made a strong request for increased police patrols and a more visual presence in the town for a time to deter graffiti and general vandalism .
Sgt Joanne Torjensen said she would increase particularly PCSO patrols in marked police cars in all areas of the town.
Mayor Thomas reported he will continue to concentrate on all issues of vandalism but is also working with MCC to provide more youth services.
The joint Abergavenny Town Council and MCC new Youth Centre is now due to be in place by March 2022 which will give the Youth Service a really comfortable and useful base in Abergavenny.
The Seven Corners project also does valuable work with young people as does the Gateway Church.
He has called for a catch up meeting in mid February to try to review progress.