A FURIOUS exchange erupted in a council chamber when a top Tory politician accused a Labour rival of "misogyny". 
Monmouthshire Council conservative leader Cllr Richard John (Mitchel Troy) said comments made by Abergavenny labour councillor Martyn Groucutt questioning if a female councillor had understood a council report on how to allocate additional funding to one of two schools, were misogynistic. 
The chamber was debating a decision taken by the Labour-led cabinet to spend funding from a housing development on a school in the neighbouring council ward, rather than on the Church in Wales school closest to the new housing. 
Cllr John said the debate was taking place, under the call-in procedure, as Cllr Groucutt had "failed to convince" a cross party committee of the merits of the decision, meaning it decided it should be considered by an extraordinary meeting of the full council.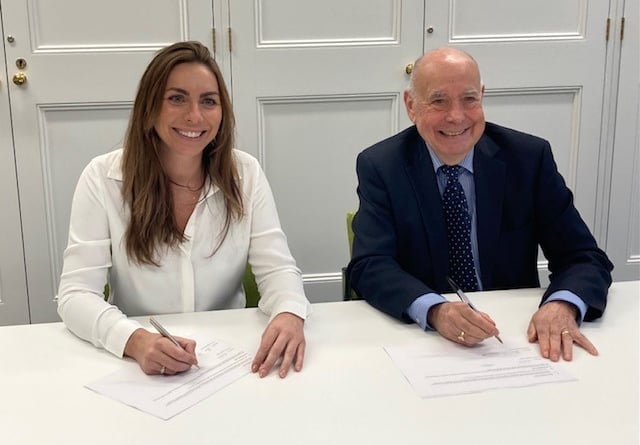 Cllr Lisa Dymock and Cllr Martin Groucutt in happier times
(MCC)
But he said Cllr Groucutt had "lashed out" at others including himself and his Conservative colleague Lisa Dymock who had pulled up the cabinet on its decision to use the funding from a housing development in her Porskewett ward on a school in a neighbouring Labour held Caldicot ward.
Cllr John, who represents Mitchell Troy and Trellech, said: "He accused me of mischief making but his attitude to Cllr Dymock, I felt, was quite patronising. He said Cllr Dymock didn't understand the report. Why would she not understand it? Is it because she is a woman, is it because she's a young woman in politics? We should not accept that sort of misogyny in this council." 
Several councillors raised their voices in disagreement at that point, and spoke across the chairman, and Green Party cabinet member Ian Chandler could be heard calling for an apology. 
Chepstow Labour councillor Armand Watts said: "Those aspersions are an absolute disgrace and bring shame on this council. In no way did Cllr Groucutt try to insinuate any kind of sexist comments at all, it's absolutely appalling I've never heard him (Cllr John) come across as badly as this before. I would think he would like to apologise."
Chairman Meirion Howells then asked Cllr John if he wished to apologise but the Tory leader only said: "It is not acceptable to say members of this council do not understand reports."
There was a shout of "that's not an apology" and the council's Labour leader Mary Ann Brockelsby shot back: "It is not acceptable to suggest that is misogyny" while Cllr Chandler said "you need to justify that or apologise and withdraw it". 
Cllr John at first said he wouldn't withdraw "any of his remarks" and after the chairman had said the issue wasn't a "point of order" it was agreed to seek clarification from council chief executive Paul Matthews who, like several councillors, was attending the meeting virtually by video link. 
Mr Matthews said it was up to Cllr John whether he wished to withdraw the comment and if he didn't wish to councillors could use the "framework" of the code of conduct to "hold him to account" if they deemed it appropriate. He said if Cllr John didn't wish to withdraw the comment he should be allowed to continue to speak. 
Following the chief executive's intervention Cllr John said "in the interest of continuing the debate I withdraw my remark". 
Later in the meeting deputy leader, Chepstow Labour councillor Paul Griffiths, said he "listened to and respected" the arguments made "even those I disagree with" but said: "When I disagree with a female member I will do so as robustly as when it is a male, that's not misogyny to do so otherwise would be."
Conservative member for Devauden Rachel Buckler said she objected to the way councillors raising "legitimate concerns" were being told "they should be ashamed of themselves" but praised Cllr Griffiths for his comments. 
A point made by Cllr John about 40 per cent surplus places in one Caldicot primary was also criticised by Dewstow Labour councillor Tony Easson.
He said Cllr John had been referring to Ysgol y Ffin, which he said wasn't an appropriate comparison as it is a Welsh medium primary serving a wider area and the council has accepted there may be less take up of places as it aims to support the specialist provision. 
Cllr Groucutt didn't make any response to Cllr John's comment when he further addressed the meeting.
The cabinet decision, which was that a £400,000 pot of money generated from the housing development in Porskewett, should be spent at Castle Park Primary in Caldicot rather than at Archbishop Rowan Williams school, in the village, which is in line for £1.1 million from other housing developments, was accepted after a vote. The council could have ordered the cabinet to reconsider the decision.