"THE heart" of the Vale of Grwyney community is set to be ripped out to bring down empty school spaces in the area as Powys County Council's Liberal Democrat/Labour cabinet vote to close Llanbedr Church in Wales school later this year.
At a meeting of Powys County Council's Cabinet on Tuesday, January 17, councillors met to decide the fate of Llanbedr Church in Wales school as part of a number of recommendations affecting all schools in the Crickhowell catchment area.
The decision had been delayed by a month to allow Swansea and Brecon diocese to speak to the council and schools on alternative proposals.
The closure had already been postponed from August 31, 2022 to August 31, 2023 to allow the catchment area review to take place.
Following the revive education officers stood by their previous recommendation to go ahead with the closure.
But Swansea and Brecon diocese director of education, John Meredith offered an alternative approach to councillors.
Mr Meredith said: "I believe that all options have not been explored in detail including the creation of a three to 18 (years old) all through school of religious character on multiple sites.
"We have an opportunity to work in partnership to create a centre of excellence in south Powys and I feel this is being missed."
"There should be a focus on growth, not closure."
"A full exploration of the three to 18 school is needed and more time would allow this to occur."
Cllr Matt Beecham and his wife Cllr Sarah Jane Beecham represent the area and their daughter attends Llanbedr.
Cllr Matt Beecham said: "One of the primary reasons John and I worked on this proposal and brought it to the table is to look at a different way of retaining schools in the local communities.
"A merger technically means that schools are closed.
"But the important aspect is to ensure there is some form of school remaining in the community."
"There is growing support for this, and we are at the start of pushing it."
"Closing a school in a small rural community condemns and fragments that community, until it eventually loses its identity."
He said that the vote was essentially to "remove the heart" of the community in the Vale of Grwyney.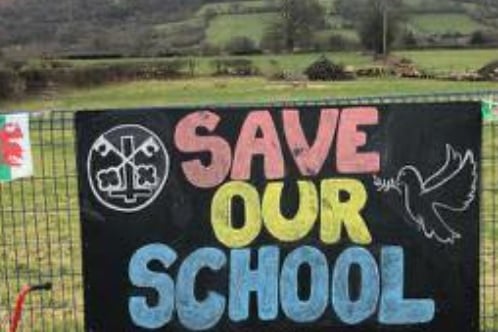 A 'SAVE OUR SCHOOL' sign at Llanbedr
(LDRS )
Cllr Beecham said: "Arguably this is the strongest education cluster in the whole of Powys, we have no weak primary schools and one of the best high schools in Wales.
"Surrounding the Crickhowell cluster is failure.
"Gwernyfed and Brecon (high schools) and Brynmawr (Blaenau Gwent) are in special measures and the school in Abergavenny (Monmouthshire) has many issues.
"Crickhowell cluster needs to be held up as an exemplar of best practice for the rest of the county."
He added it was possible to delay the closure for three years, and two of these years are left.
Cabinet members for a greener and caring Powys, Cllrs Jackie Charlton and Sian Cox had declared an interest in the item as they represent wards that include schools in the catchment area.
This meant they couldn't vote on the proposals.
Cllr Cox said: "I regret that this presentation on all through (school) is late.
"I would have liked to see a costed proposal.
"I believe time to develop a bespoke model that could work for this catchment is merited."
Cllr Jackie Charlton said: "We know we have a competitive and successful catchment and it would be more successful including Llanbedr."
Education portfolio holder Cllr Pete Roberts said: "In two year's time we would be faced with a position in the catchment of over 20 per cent excess capacity and predicted to extend further.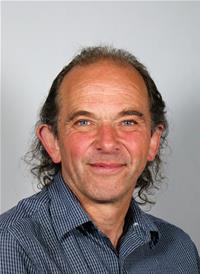 Cllr Pete Roberts
(Powys CC )
"That key fact has not changed."
He said that Cllrs Matt and Sarah Jane Beecham had asked him, if the decision was taken to close the school, whether he would come down to Llanbedr personally to tell the children the news.
"Yes, I will," said Cllr Roberts.
The cabinet voted unanimously to go ahead with the closure process.