Young writers were celebrated at this year's Abergavenny Writing Festival, which took place from Friday, April 21 to April, 22. The Abergavenny Youth Writing Competition was created, as a way to encourage young people to express themselves through words. 
The winners were awarded their certificates by Mayor Tony Konieczny in front of their proud families at a ceremony on Saturday 22nd April at the Melville Centre Theatre. 
Delighted by the aptitude exhibited by these young writers, Cllr Konieczny said: "I was fortunate to read all the entries for the Youth Writing Competition.  The standard of the writing was very high with some very powerful and thought-provoking pieces. The judges must have had a difficult but enjoyable job deciding on who to award. Abergavenny has produced many successful writers and the standard achieved by our young writers means the literary future looks to be in safe hands."
Also in attendance were Andrew Tattersfield representing sponsor Christie Residential, writing mentors Alex Wharton, Jude Rogers and Rhian Edwards, Writing Festival organiser Lucie Parkin and competition organiser Lynn Clausen.
All entries were appraised blind by this year's judges: Phillip Michell, Marva Jackson Lord and Megan Gillard. 
On the overwhelming talent displayed by the participants, Marva commented: "It was an honour to take part. I found the experience to be emotional and inspiring. I was impressed with the scope of perspectives, the wisdom, wit and critical analysis of these young people." 
Fellow judge Phillip further added: "The entries were of an exceptional standard, displaying a creative and emotional maturity. We need writers like these!"
The winning young writers are: Amber Collins, Emily Hope, Nico Hernandez Panes , Cara De Gouveia, Molly Jarman, Emily, Daisy Varty, Montgomery, Ben Rogers, Effie Morris, Ostyn Gillick, Eve and Sadie Roden
Upon the success of the event, competition organiser, Lynn Clausen said: "This festival is a joy to be a part of. I love the youth writing competition as it allows an opportunity for young people to jump in and give writing a go, in a no pressure space. 
"The writer mentoring sessions delivered in the afternoon were fabulous opportunities and I know both mentors and mentees had a wonderful and memorable time!"
In addition to the ceremony, the winning young writers got to spend the afternoon enjoying the abundance of opportunities on offer at the Abergavenny Writing Festival, such as mentoring sessions, which were specifically designed for them by writers Alex Wharton, Jude Rogers and Rhian Edwards.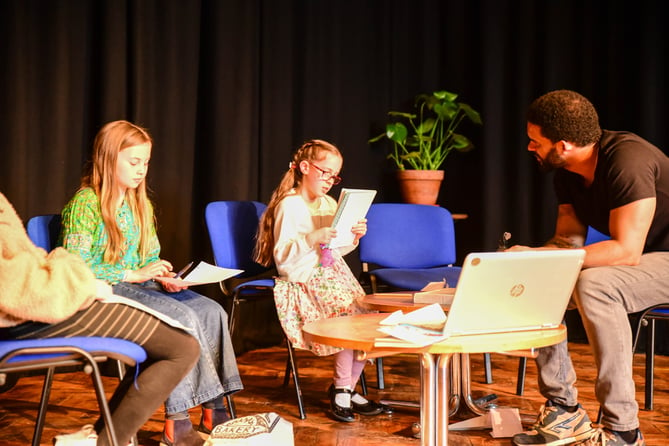 (Abergavenny Writing Festival )
Alex Wharton commented: "These young writers are clever, thoughtful, curious, open minded and creative. They engaged so well in the sessions and it was an absolute pleasure to work with them. I wish them all a bright and wonderful future in whatever they put their minds to. I'm very sure we'll be reading their books one day.
Rhian Edwards shared this enthusiasm, proud to play a role in the day's events: "It was a truly exhilarating experience to be working with children of all ages again, getting them to come out of their shells and throw themselves into exercises that even some adults find difficult. The important thing was to give them the confidence to read an unpolished first draft in front of strangers."