Dog lovers received a special treat in town on Sunday February 27 as around 125 dachshunds and other dogs descended on Abergavenny for a charity walk.
The event saw families bring their dachshunds and sausage dogs along as well as other breeds of dog for a walk around town starting at the Trading Post at 12pm before walking down past Abergavenny Castle and through the popular dog-walking spot of Castle Meadows.
The event was organised to raise money for the charity Dedicated to Dachshunds with IVDD, a small organisation which loans equipment to dachshunds with intervertebral disc disease (IVDD). Dachshunds are prone to IVDD because of their physical shape and research is ongoing as to how it can be prevented.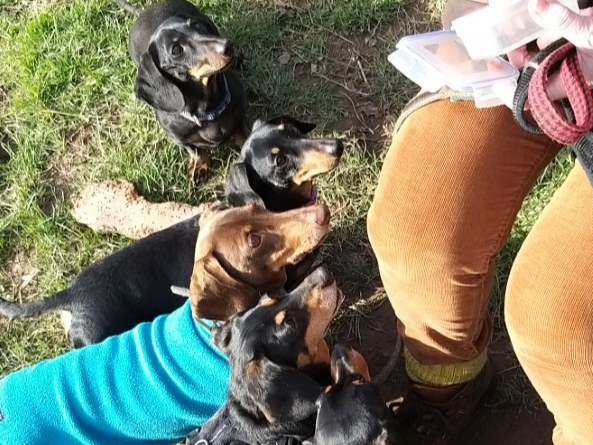 (Pic from Charlotte Baldwin )
Charlotte Baldwin helped organise the event.
She said: "We were so happy to see so many people enjoying the great sunshine in Abergavenny for our charity walk. All the dogs were well behaved and looked like they had a great time mixing with other dogs.
"The warm welcome received by the local businesses was amazing, especially the Trading past for the complimentary puppachinos. I don't think they were expecting so make so many but table service was never far away.
"In total we raised an amazing £285 for our charity Dedicated to Dachshunds with IVDD and we would like to thank everyone for their kind donations and support."
The charity organise walks all over South and West Wales attracting many dogs. This event was their first in Abergavenny and after the great response the charity hope to organise other charity walks in the town in the future.
For more information on the charity Dedicated to Dachshunds with IVDD please visit their website at https://dedicatedtodachshunds.co.uk/