A legendary pop singer is set to perform in Abergavenny next month as part of an acoustic duo.
Kiki Dee will be joined by guitarist, composer and producer Carmelo Luggeri for a show in the Borough Theatre .
The pair are embarking on their "The Long Ride Home Tour" and will stop off at the Borough on Saturday, October 7 at 7:30pm.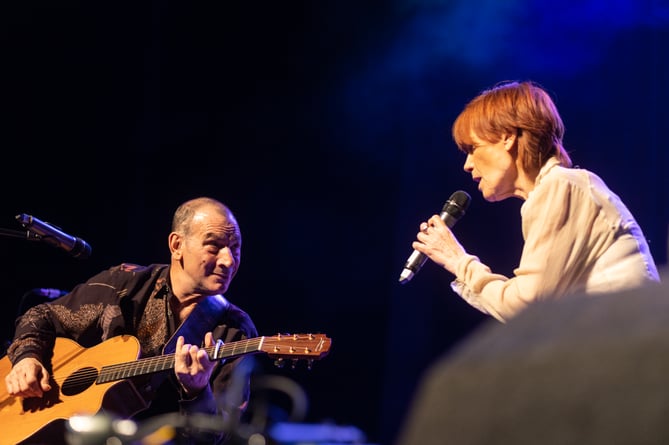 Ashwell-based Kiki Dee's long musical career has taken in London in the swinging 60s, a Motown contract, a run on the West End, an appearance at Live Aid and her famous chart-topping duet with Elton John: Don't Go Breaking My Heart.
For almost two decades, Kiki and Carmelo have been touring their spellbinding acoustic live show across the UK and Europe.
Performing in this stripped back fashion allows each of their exceptional talents to shine through and create a wonderful and warm sense of intimacy for the audience.
2019 marked Kiki's 55th year in the music industry and has cemented her status as one of the UK's finest and most revered vocalists. The duo's latest critically acclaimed album "A Place Where I Can Go" features 11 tracks including the haunting duet "Horses" with Scottish singer Eddi Reader.
Their brand-new studio album "The Long Ride Home" has been made with rave reviews from the UK press. This album of haunting, emotional, and stunning songs will please their army of friends and fans.
Join Kiki and Carmelo at the Borough Theatre Saturday, October 7 for an acoustic journey of stories and song which include unique covers of songs by artists such as Kate Bush and Frank Sinatra and of course Kiki's own hits "Don't Go Breaking My Heart", "I Got The Music In Me", "Loving & Free" and the stunning "Amoureuse".
Tickets are priced at £25 and are available from the theatre's box office 01873 850 805 and the website.