Are virtual school trips the future?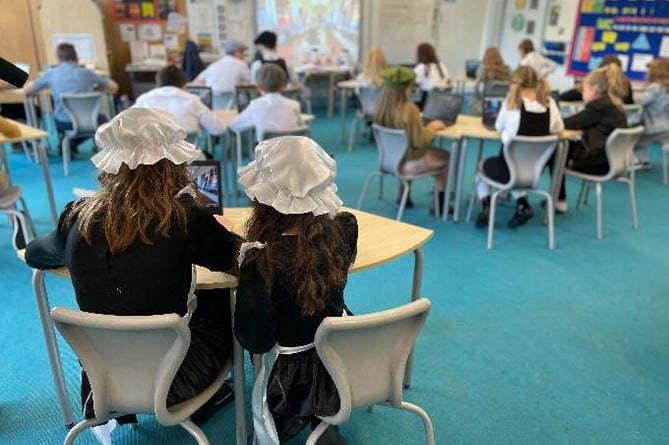 Blaenavon students enjoying a virtual tour of Blaenavon World Heritage Site
()
Subscribe newsletter
Subscribe to our email and get updates right in your inbox.
A class of 21 pupils went on their first school trip to Blaenavon World Heritage Centre after 15 months – on their laptops.
Children at Blaenavon Heritage V.C Primary School dressed up in Victorian-era school outfits and explored the exhibition which featured interactive quizzes about Blaenavon's history and visited the 300-year-old classroom.
With many schools still avoiding residential educational visits, the virtual tour and 60-minute guide lesson of the UNESCO World Heritage site is a great way for kids across Wales to learn about the history of the industrial mining site.
The Blaenavon World Heritage Centre is just part of the 33 square kilometre UNESCO World Heritage site, which also includes Big Pit National Coal Museum, Blaenavon Ironworks and the Blaenavon Heritage Centre.
Although sat in their classroom, the children were excited to explore the World Heritage Site, where they learnt about living and working in Blaenavon through an onsite Victorian lesson.
Year 6 student at Blaenavon Heritage School V.C, Hannah, said: "It was really cool how you could look around the site from our classroom, or even at home.
"My favourite bit was the Victorian lesson with the scary teacher, it really feels like you're back in the olden days!"
Staff at Blaenavon Heritage V.C Primary School were happy to take part in the event to promote the heritage centre right on their doorstep.
Blaenavon Heritage V.C Primary School Head Teacher, Jane Howells, said: "We really value Blaenavon's community and rich heritage, and it's important to develop an awareness of our position in the wider world.
"A key part of learning is fun and engagement and setting up experiences that pupils remember. This is an excellent way of making learning stick."
Funded by Welsh Government Cultural Recovery Fund, the virtual tour of the World Heritage Centre allows schools to learn about the South Wales' industrial landscape – which played a huge part in the nineteenth Century production of iron and coal.
And although online excursions might not replace a real-life visit, the virtual tour is here to stay.
The experience will also help those who have neurodevelopmental conditions such as autism to pre-plan and prepare for in-person visits, helping to make the centre more accessible.
Torfaen's Executive Member for Economy, Skills and Regeneration, Councillor, Joanne Gauden, commented: "It's been fantastic to connect local pupils to South Wales' heritage, which played a crucial part in the early industrial revolution, and really shaped the world we live in today.
"We can't wait to welcome back pupils into the World Heritage Site in person, but this resource is here to stay. It's a great way for people to learn about Wales' industrial past, wherever they are in the world and from the comfort of their own homes or classrooms."
If you're interested in a virtual tour of Blaenavon World Heritage Centre, you can visit it on the website or see www.visitblaenavon.co.uk
Comments
To leave a comment you need to create an account. |
All comments 0