Duke of Cambridge launches new award programme at Llanfoist school
Wednesday 1st March 2017 1:14 pm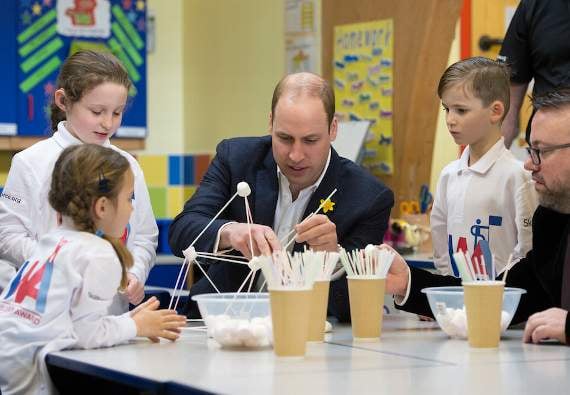 Subscribe newsletter
Subscribe to our email and get updates right in your inbox.
The Duke of Cambridge Launches Groundbreaking UK First – New SkillForce Prince William Award Programme To Give Children Confidence and Resilience For Life
The Duke of Cambridge was in Llanfoist today to launch a groundbreaking new award programme run by SkillForce in his name to help schoolchildren build character, confidence and resilience.
The SkillForce Prince William Award is the first award scheme of its kind. Delivered by the national education charity SkillForce, it targets younger children from six-years-old as well as teenagers.
Aimed at six to 14-year-olds, the award programme draws on the expertise and skills of predominantly ex-Services personnel who work as SkillForce instructors.
Thirty-seven primary and secondary schools, involving more than 1,000 pupils, have been piloting the one-year programme since the start of this academic year.
The Duke, who is SkillForce's Royal Patron, officially launched the initiative at Llanfoist Fawr Primary School in Abergavenny, Monmouthshire, taking part in three of the award programme activities involving 80 pupils from three schools that are completing the pilot this academic year.
During his visit the Duke helped pupils from Llanfoist with a 'hover ball' teamwork challenge with pupils from which saw them tasked with transporting a ball to safety, imagining it is a radioactive cell. The task tests cooperation, discipline, self control, problem solving and resilience skills.
Jon Murphy, Headteacher of Llanfoist Fawr Primary School in Abergavenny, Monmouthshire, said: "We are honoured to host the launch of the Prince William Award programme which is preparing our pupils with the skills they will need to succeed in education and adult life. We have seen huge benefits from taking part in the pilot this year. Our pupils have greater self confidence, independence, problem solving and listening skills, and attendance has improved. Our pupils can barely contain their excitement at meeting Prince William and demonstrating some of the skills they have developed."
Abigail Squirrell, aged 10, from Llanfoist Fawr Primary School, said: "I am so excited about meeting Prince William. I think it's very good that he's involved and that he is meeting the children, so he can understand how the award is helping them. I feel a lot more confident. I didn't used to put my hand up in class to ask questions or give answers but now I am fine about speaking up and leading some of the activities.
She added: "I really like the challenges because they help you cooperate and work together as a team. We also have a check in at the start of the sessions where we get to say how we are feeling. That's really important because if you are feeling a bit sad, then others will comfort you and show kindness. We are also asked to think about what we have learnt from the sessions and how we have put those things into practice during the week."
James Morris, aged 10, from Llanfoist Fawr Primary School, said: "I really enjoy the SkillForce sessions. We play fun games, like hover ball, where we have to work together as a team and that's helped me feel a lot more confident in class. The Prince William Award is a great idea and it is amazing that we will get to meet him."
Ben Slade, Chief Executive, SkillForce, said: "We are thrilled to launch the Prince William Award, a pioneering new programme and the first of its kind, which will help children and young people build character, resilience and an inner strength for life. I want to thank The Duke for his fantastic support."
He added: "Character attributes can be developed in children and young people, given the right mentoring. Our ex-Services personnel, who work as instructors in schools, inspire children and young people to dare to be their best selves. Developing personal skills is as valuable as academic study, given that character traits such as courage, cooperation, listening and problem solving can affect academic performance, psychological wellbeing and job success later in life."
The Prince William Award programme covers five themes: personal development, relationships, working, community and environment, and comprises three award levels for different age groups. They are pioneer (minimum age 6), explorer (minimum age 8), and trailblazer (minimum age 12). For more information, visit www.skillforce.org.
The one-year programme will start in primary and secondary schools this September 2017, following on from the pilot that began at the beginning of this academic year. The award combines practical and reflective learning through classroom-based and outdoor activities to develop character, resilience, compassion, courage, teamwork and problem solving skills.
The scheme is suitable for all children and young people including those at risk of social exclusion. In addition to team tasks and practical challenges, pupils and students receive feedback from instructors that encourage them to reflect on their actions and experiences, and consider how they would behave differently next time.
The award has been developed with education experts including the Jubilee Centre for Character and Virtues at the University of Birmingham, and is supported by investment company Standard Life.
Character education, according to the Jubilee Centre for Character and Virtues at the University of Birmingham, helps children and young people develop positive personal traits and strengths called virtues. It is the development of good sense or practical wisdom, and it involves knowing how to choose the right course of action.
Character education is also about helping students grasp what is ethically important in situations and knowing how to choose the right course of action in difficult situations. It grows from the experience of making choices and from ethical insight.
Interim research findings from the pilot show that targeting younger primary school pupils is very popular with schools. Teachers at both primary and secondary schools, across all key stages and settings, have noticed substantial changes to behaviour, attitude and skills in particular confidence, communication and the ability to work with others.
Comments
To leave a comment you need to create an account. |
All comments 0