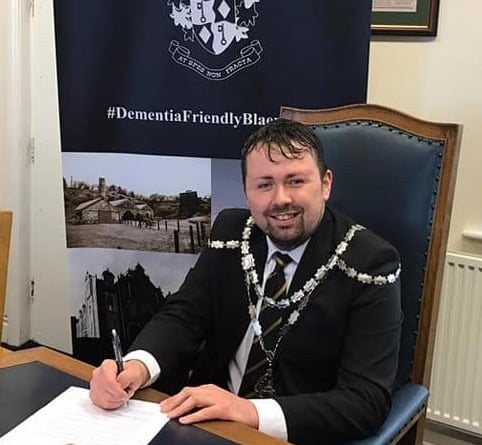 Blaenavon Town Mayor Cllr Liam Cowles
(Pic from Blaenavon Town Council )
Subscribe newsletter
Subscribe to our email and get updates right in your inbox.
A town council has been rocked after being served with a 'petition of no faith', calling for a referendum and its potential dissolution.
Businesswoman Charlotte Hill has submitted the petition over Blaenavon Town Council, amid anger about a 42 per cent council tax precept rise, adding up to £27.57 to annual household bills, and the resignation of several councillors.
More than 10 members have left the council in the last three years, with three members reportedly resigning the day after Prince William and Kate's visit to the town three weeks ago.
Deputy mayor Jackie Huybs was among those to step down, although she says she has left because of work commitments and has praised the council.
If the petition, which will be considered by district councillors, leads to a referendum in the town and residents back the 'no confidence' move, the council could potentially be scrapped.
Charlotte Hill, a Blaenafon Cheese Company director, said: "I have submitted a petition of no faith in Blaenavon Town Council.
"My reasons along with many others in the community are the high rise in precept when everyone is facing the hardest financial time, and the resignations of 12 fantastic councillors since 2018/19 that actually cared about the community.
"I've received more signatures than I needed to action the petition. It has been submitted to the appropriate bodies, even Blaenavon Town Council…
"Even an ex-mayor signed the petition…
"I understand fully what has been going on within the council and once again when questions are asked and need to be addressed there is nothing but silence from the council.
"People of Blaenavon aren't happy - if it goes to a vote then it's a simple 'yes' or 'no' from the residents of Blaenavon to decide as a collective."
She claimed that some feel the council does not do enough for the town and its traders and "everybody is shocked" by the tax rise.
"With everything going on in the world, everyone is struggling and now they've got to find this extra money every month for their council tax. It's absurd."
But the council, which says 10 councillors have resigned in the last three years with one retirement, has hit back, slamming some recent social media comments as "offensive, divisive, inaccurate, and misleading".
Town mayor Cllr Liam Cowles said: "Blaenavon Town Council is comprised of elected and co-opted members, currently seven, and a team of three officers who all work tirelessly for the community of Blaenavon.
"This dedication has resulted in the town council being awarded five One Voice Wales National Innovative Practice Awards for services to the community during the past four years.
"It is disheartening for members and officers to be subjected to such a barrage of disingenuous negativity on social media.
"The town council are looking forward to the May 2022 local elections in order to progress and continue with the positive initiatives we are currently delivering."
Former deputy mayor Jackie Huybs told the Chronicle she had stepped down due to "growing work commitments" no longer allowing her to spend as much time on council business as she wanted.
And she backed the council's work, saying: "I'm extremely proud of the past five years I've spent on the council, working alongside committed passionate people – particularly the chief officer (Kevin Warren) and Healthy Blaenavon Officer (Rebecca Smith) – delivering excellent results for the community.
"If I wasn't working in a demanding job that I love, I'd still be there, and would stand again in May.
"This council has been the most progressive and proactive Blaenavon has ever seen – the envy of community councils the length and breadth of Wales. Long may it continue to do great work."
A council spokesperson added that the 'petition of no faith' will be discussed at the next meeting.
"Members were presented with a comprehensive and detailed draft budget at the January 2022 Finance Meeting and was approved by members by 5 votes to 3.
"We are a progressive council, currently running many projects including the Healthy Blaenavon Project, which is an all-Wales pilot working with partners in the Public Service board to support people to live Healthier lives, particularly those in poverty.
"This project has brought in almost £50,000 in funding over the last 3 years, which has been spent on activities for residents of Blaenavon.
"More recently we have become the first town council in Wales to become the lead organisation delivering a Participatory Budget Project which will finance projects within the Town totalling £146k over the next two years.
"A primary reason for the precept rise is to maintain and increase services, an example being that £73,806 has been budgeted for projects in 2022/23," they said.
"Alluding to recent resignations, we are extremely disappointed with it being so close to the local elections."
And on the claims on social media, they added: "The town council refute the comments in the strongest possible terms."
The amount the town council collects as part of its precept will increase from £130,000 to £185,000 a year from April.
A band D householder will pay £94.24 per year, an increase of £27.57 on the precept, which is added to council tax bills.
Those in band A properties, which make up the biggest proportion of housing in the town, will see annual bills rise from £44.72 to £64.13, while band B householders will see an increase of £22.65 per year to £74.82.
This amount is on top of rates charged by Torfaen County Borough Council and organisations including Gwent Police.
Torfaen county borough councillor Cllr Stuart Evans, who represents Blaenavon, has raised concerns over the precept rise, saying: "Although it's a small amount over the year, every penny counts at the moment.
"What does concern me is whether they are trying to do too much. They need to focus on the present conditions."
Comments
To leave a comment you need to create an account. |
All comments 0