Closure threatened school vows to fight to stay open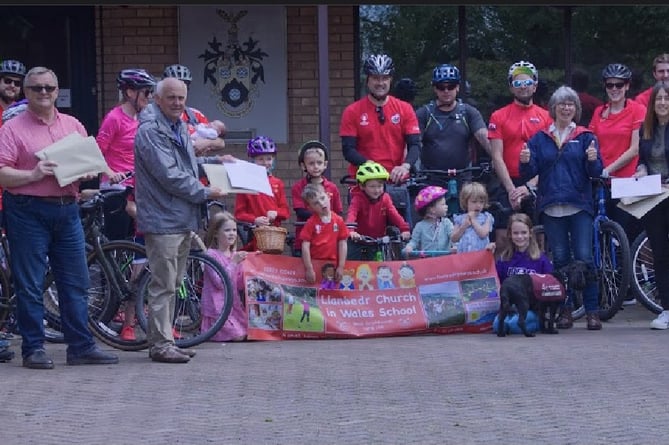 Parents, pupils and staff during their campaign last year
(Pic from Tindle )
Subscribe newsletter
Subscribe to our email and get updates right in your inbox.
Despite 349 objections the closure of a "successful, happy, high achieving and full primary school,"  has gone ahead.
Powys County Council's Independent/Conservative cabinet voted in favour of continuing the process of closing Llanbedr Church in Wales primary school in the Vale of Grwyney near Crickhowell at its meeting on Tuesday, March 8.
Closing the school will save the council £39,000. Its closure is due to happen at the end of August.
Local county councillor John Morris spoke against the closure, at the meeting and afterwards said: ''This is a shameful decision by the ruling conservative /independent group on PCC. It flies in the face of all that the council stands for in its Vision 2025 policy.
''This decision shows that the council officers and ruling group are not listening to the communities they are there to serve.
''There is no strategic policy for the Crickhowell catchment area just a piecemeal approach. At the same time as closing this successful school they have recently decided to spend huge amounts of money on a consultation around an all through school for Crickhowell Primary and High Schools.
''The misinformation in the closure report falls well below what residents should expect from their council.
''The community, parents and pupils have been steadfast in their opposition to this closure and I am sure will succeed with a legal route supported by the Welsh Government's presumption against the closure of small rural schools.
''I am confident that due to this challenge the council will have to suspend this decision and the school will be open in September to welcome back its pupils for many years to come.
''I do hope that following the May elections a more caring and strategic administration is in power who will work along-side the rural communities in Powys.
Education portfolio holder, Cllr Phyl Davies told the meeting: "This is still classed as a small school and as we have heard from many of our educationalists it will struggle to deliver that curriculum based on the resource it has."
Head of transformation and communications, Emma Palmer told the councillors that if Llanbedr closes, for 61 per cent of pupils their nearest school is in Crickhowell.
Ms Palmer added that as of January the number of pupils at Llanbedr are 43, and when nursery and Year 6 are added to the total that figure rises to 52. Ms Palmer explained that "there is capacity and enough room" to take the Llanbedr pupils in the other schools in the catchment area.
She added that there were also "informal discussions" now underway to create an all through school in Crickhowell.
Ms Palmer said: "On balance it was considered that discontinuing Llanbedr church in Wales school was the most appropriate response to reasons identified to formulating the proposal."
The reasons for closing the school are:
To address the issue of low pupil numbers.
Reduce the council's overall surplus capacity in primary
To make financial saving to the council
To enable pupils to attend larger schools, which would be better equipped to meet the requirements of the new curriculum and can also provide a
wider range of educational and extra-curricular opportunities.
To rationalise the primary school estate.
In a statement following the decision a Llanbedrw CiW school spokesperson said: ''As parents and governors of Llanbedr Church in Wales School near Crickhowell we have vowed to continue the fight to keep our school open. Our parents, especially, have been amazing with their support and refusal to accept defeat. They continue to work together to ensure that the school remains open and viable.
''We feel that Welsh government have put in place support for small rural schools, especially those who enhance their communities and provide an excellent education for the children. Conservative and Independent Powys Cabinet members have ignored Welsh government in taking the decision to close our school.
''Llanbedr is NOT a failing school – PCC agree it has excellent educational standards. It does NOT have surplus places. It is already successfully preparing and implementing the New Curriculum for Wales. Llanbedr School deserves to be available for all children in the local area who wish to attend. We will continue to welcome new learners to our school.
''Powys County Council will, no doubt, respond with the same tired response they give every time but they must understand that this is a fight they will not win.''
Comments
To leave a comment you need to create an account. |
All comments 0