Abergavenny's market hall is set to host a boxing promotion for the first time in over 50 years in an evening that promises talent, excitement and intensity. 
Local boxing champion Kieran Gething will be headlining the event in a 10 round bout for an as of yet, unnamed title. The night will also see an undercard of experienced and up and coming boxers including Omar Rashid- the Welsh Lightweight title holder, Jake Tinklin- a Welsh Welterweight title challenger and Angelo Dragone, who is also a Welsh title challenger. 
Also due to take part are Ethan George and Mark Davies who are climbing the ranks in the professional leagues. This already impressive list will only grow, says a hopeful Kieran. 
Abergavenny has a great boxing history with Welsh and British title fights being hosted at the market hall in years gone by, which saw fights by the likes of Eddie Thomas (European champion) and Randolph Turpin, who once defeated the great Sugar Ray Robinson. 
The man of the main event, Kieran, is delighted by the opportunity to play his part in such a history saying, "It's amazing how much history is at the venue and I really can't wait for it, if I have half the recognition Mr. Thomas had when he finished, I'd be over the moon."
Born and raised in Abergavenny, Kieran has been boxing for over fifteen years. In this time, Kieran has gained many achievements including acting as the  captain of the Welsh boxing team as an amateur. 
In his professional career, he went on to win the fight of the year award, as well as win and defend the Welsh Super Lightweight title. 
He now hopes to add another belt to his collection and in the future and ultimately win the International title in Abergavenny.
In preparation for the event, Kieran spent a week with Chris Eubank and Eubank's trainer, Roy Jones Jr (arguably, one of the best pound for pound fighters ever). 
Kieran has now trained for three to four weeks in camp and expects to be in peak condition by the time of the fight. 
This has been a personal goal for Kieran for a long time; something that he has dreamed would happen, especially at the Market Hall. 
He added, "I'm so excited about this opportunity and what it could do for the town. 
"There will be over 1,000 people entering the town and will definitely be one night to remember for everyone, not just myself! If this show is as much of a success as I believe it will be, there are two other venues we are looking at that will only get bigger and better. 
I really hope those from my hometown will come and be a part of the show and even those in the surround areas like Monmouth where I've been a part of setting up a boxing club. 
"It's going to be really easy to get tickets from the shops in town displaying the fight posters, but also from the email address on the posters and in Monmouth or Abergavenny boxing clubs, easily found on Facebook!
I hope this will kick off what is to be my own promotional career, so we will be looking at running two more pro events this year, getting bigger and bigger."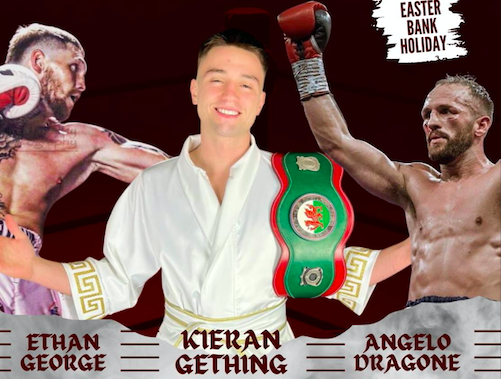 This unmissable event will also be supported by local businesses, 'Beer Box' and 'Sugar Loaf Catering' who will be providing the bar and catering. Following the show, live music will be playing in the Market Hall until 11pm. 
The event will be taking place on Thursday, April 6, from 6pm. 
Tickets are selling at £50 each and are available at Abergavenny and Monmouth Boxing Clubs. Additionally, the public can access tickets by emailing gething[email protected] or contacting @kierangething on social media.