ONE of the great joys of the job is seeing successful businesses take off and flourish across Monmouthshire.
I was delighted to accept an invitation to visit Securiclad in Monmouth. Any readers familiar with Hadnock Road will know the industrial site, which had become a magnet for vermin and seagulls.
There was also local concern about the state and safety of the building. Not anymore as an exciting new company has moved in! Securiclad specialises in the design and manufacture of an effective modular panel system with government approved protection for high-risk areas, including the military, police and prison service.
This highly skilled business supplies goods around the world and currently employs circa 10 people at its state-of-the art robotics and sophisticated manufacturing facility in Monmouth.
It was fantastic to be given a tour by managing director Christine Wilde and her team (pictured) to learn about the excellent work that is being carried out on our doorstep.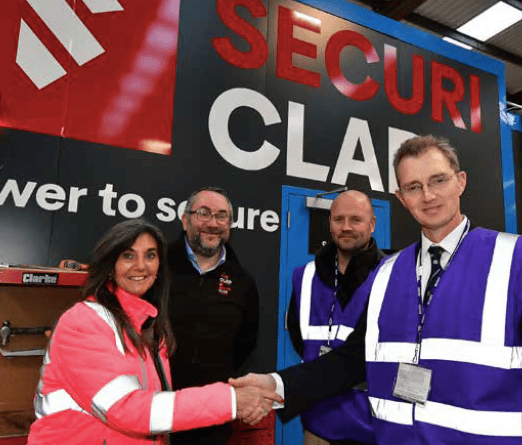 As there is no synagogue in Monmouthshire, I marked Holocaust Memorial Day on Friday in my role as Secretary of State for Wales with a visit to the Cardiff United Synagogue.
I was shown around by Rabbi Michoel Rose and spoke to members of the Orthodox Jewish community who are very concerned about a rise in anti-Semitism.
Indeed, I was saddened to hear there has been increased security at the synagogue because of this.
What was particularly poignant – and a great honour – was to spend time with 95-year-old Holocaust survivor Terry Farago-Nogaidi. She was taken to Auschwitz from her home in Hungary at the age of 17 and told her incredibly moving story of the suffering she endured during Nazism.
I was truly humbled to meet Terry and her family.
Of course, the number of Holocaust survivors who are able to give firsthand accounts is sadly diminishing and it is our duty to ensure their emotional testimonies are remembered for generations to come.
I was shocked to learn that five percent of UK adults do not believe the Holocaust took place and one in 12 believes the scale of the Holocaust has been exaggerated. In some Western European countries, these figures are even higher.
This goes to show how important it is to listen with respect to people who experienced what happened.
If we are to collectively challenge hatred and prejudice in all its forms, we must learn the lessons of history and ensure both present and future generations are taught the horrors of genocide.