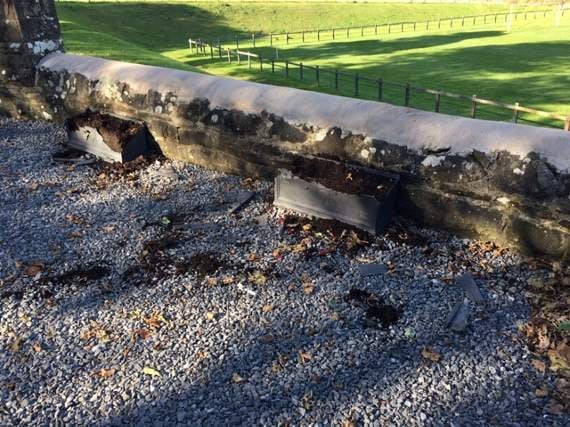 Subscribe newsletter
Subscribe to our email and get updates right in your inbox.
A local military veteran spent years fighting for a war memorial in Govilon to honour those killed in the world wars, only to see it vandalised just weeks later. ??The recently refurbished war memorial was attacked over the weekend, with cracked flower beds, strewn soil, and missing plants evident on Saturday morning.
Just weeks after years of work was marked with a poignant service and minute's silence, locals woke to find the memorial area vandalised, leaving Ivan Beatty and all involved in dismay. ??But Mr Beatty, a 33-year military veteran, insisted on seeing the positives. Talking to the Chronicle, he said the incident had unified villagers. ??"It is unfortunate, but action is being taken to sort it all out," he said. 'We are already getting replacement pots donated from Morrisons, and the plants are being replaced. ??"The fact is that this has happened, and everyone involved wants to sort it out. I think that puts a different slant on things. ??"Hopefully, the memorial will now play a bigger part in the minds of locals. The reaction has been overwhelming. Villagers have all come together to sort this out. There are definite positives to take from this." ??Completed in September, volunteers honoured completion of the Govilon War Memorial Garden after years of fighting for a suitable memorial to honour those who gave their lives during the first and second world wars. ??As the Great War broke out in 1914, volunteers from Govilon signed up for a conflict they knew would probably end their short lives. Crowds waved the boys off as the horse-drawn carts trotted them off from the village Post Office.
Enlisting with 'A' Company of the 3rd Battalion Monmouthshire Regiment, the 12 men were to join millions in a world-shattering conflict which was to claim 40 million lives.
The 12 men saw conflict and death on battlefields in France, Turkey, and the hellscape Battle of Ypres which claimed at least four Govilon boys amongst the hundreds of thousands killed. That battle for a Belgian town, just 29 men from the 500 sent from 'A' and 'D' Comapanies of the 3rd Mon. would survive. ??Gareth Havard, clerk for Clerk Llanfoist Fawr Community Council, said the incident has taken a positive turn since the weekend. ??"The family of one of the boys involved came forward, and the story has now ended in a more positive light. We at the community council have a few spare plant troughs to replace the broken ones, and Morrisons have agreed to donate some new plants. ??"Over the next few days, it will all be restored. Many local people were unaware of the memorial until now. So, this has thankfully turned out positively." ??David Davies MP, who was heavily supportive during the project's planning stages, expressed his dismay over the incident, but added he was glad the issue was being solved rapidly. ??"I am glad the culprit has been found," said Mr Davies, "and that the offer to tidy it up and make amends is a good ending to all this. It's important that younger people understand the extreme sacrifice of those who gave, and continue to give, their lives fighting in our service." ??Standing proud in red sandstone sourced from the local quarry, the memorial sits impressively beside the entrance to the King George V Recreation Ground.?
An unusual design, the memorial is also unusual in that it commemorates a civilian casualty – May Prosser. May died on April 5, 1917, as a result of her work in a munitions factory. She was 26-years-old.
Volunteers added an additional plaque to remember two men from Govilon who died in the Second World War.
A 13-year project, the memorial benefitted from some improvements in 2005 when trees were felled and the sports field levelled. Sadly, funds ran out before any further improvements could be made.?
Comments
To leave a comment you need to create an account. |
All comments 0