A COUNCIL leader has apologised for the way it handled the proposed closure of a day centre for adults with learning disabilities.
The decision to announce the permanent closure of the Tudor Day Centre in Abergavenny without consultation provoked a public backlash which resulted in a special council meeting hearing evidence from service users, their families and supporters earlier in January.
They were back at County Hall in Usk, yesterday (Thursday, January 19) to hear an apology from Monmouthshire County Council leader Mary Ann Brocklesby.
The Labour councillor, for Llanelly Hill just outside Abergavenny, thanked those who attended the full council meeting. After councillors criticised the closure and how it had been decided, she said: "I can categorically state we got the process wrong. I'm perfectly prepared to say sorry."
Her apology, at the end of the two hour session, was greeted with applause from service users and supporters who'd packed the public gallery.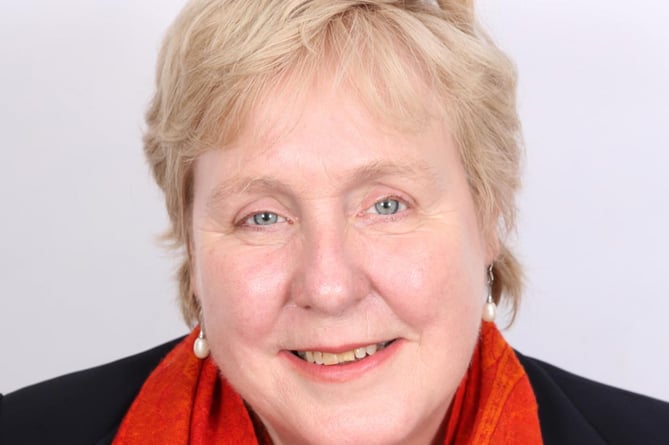 Cllr Mary Ann Brocklesby
(Pic from Jon Davies)
What is happening now to the Tudor Centre?
Nothing until a review of the Day My, My Life support service for adults with learning disabilities in north and central Monmouthshire is completed. It is due to report in March.
Cllr Tudor Thomas, the cabinet member for social care, who had taken last November's decision to permanently close the centre – which had been closed since the first Covid lockdown – confirmed his commitment to wait for the outcome of the review.
Any proposed decision will then be examined by the council's people scrutiny committee before a final decision is taken by the cabinet, rather than under the process for single cabinet member decisions.
That was how the closure was agreed in November, with a report saying numbers using the Tudor Centre before Covid had fallen and the service was now focused on involving users more in the community. It also said the intention was to sell the site so it could be redeveloped for affordable housing before tighter flooding rules, which could prevent its redevelopment, are brought in this June.
What was said at this week's council meeting?
Supporters of the centre had the chance to ask questions before the council's debate.
Jenny Powell, who has worked with people with learning disabilities, said Sarah Griffiths who was a user of the Tudor Centre and who spoke at the previous council meeting, still hasn't been contacted as part of the review.
Chris Edmondson asked if the council had considered if others could also make use of the centre. She said her husband had suffered a brain injury and would benefit from a "warm, safe space".
She said: "He goes out with an assistance dog that will bring him home if he gets lost, he often shouts abuse at people without realising it. I fear for him. If my husband wants to talk to people with similar problems he has to go to Llandough Hospital, 30 miles away."
Sara Chicken said she felt her adult daughter, Emily, has been overlooked as she has complex needs and has to use out of county services in Torfaen and Brynmawr. She hasn't been contacted by the review as she is supported on a "continuing health care basis" rather than through My Day, My Life.
Mrs Chicken said: "I do think Abergavenny definitely needs a hub where young people can go out and enjoy the community but have that safe place to go when they come back, and from the weather, as they can't just walk about in the rain."
"
It is an unhelpful assumption that day centres are old fashioned and of no use
Professor David Abbott
Cath Barton said users had social contacts through the centre before the Covid lockdown: "I'd ask all councillors to remember what it felt like to be separated from family and friends?"
Professor David Abbot, who has researched the lives of disabled people, said it is an "unhelpful assumption that day centres are old fashioned and of no use" and that many had improved on a "patronising" service provided "20 years ago".
He said the council's review should focus on what service users want and asked what "easy read" materials had been made available to them to explain the process.
Social care chief Jane Rodgers said an "easy read" version of the outcome of the review would be produced by the consultants and she could ask them about other materials that could be provided and that users are involved.
What did councillors say?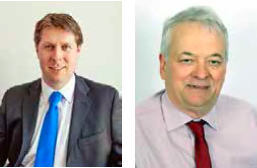 Councillors Richard John and Tudor Thomas
(MCC)
Cllr Sue Riley said she was concerned whether service users are being listened to and raised the case of Ms Griffiths who had spoken at the scrutiny meeting and asked a question earlier.
She said a council officer told her Ms Griffiths "has the most wonderful life and independence in the community. Sarah has come forward twice now to say that's not exactly how she would put it."
Usk councillor Tony Kear said his neighbour Sean, who is 54, had been a regular user of the Tudor Centre.
"His father tells me how wonderful the service was and had hugely positive changes in Sean's social skills and he has become an enthusiastic PC user and Sean says he misses his wonderful mates. He and his family ask me when the centre will re-open and his father tells me how his son's social skills have regressed since its closure."
Independent group leader Frances Taylor said allowing the decision to be taken by only Cllr Thomas showed a "lack of judgement" and the call in process, which meant the closure was referred to the scrutiny committee, "should never have had to be used" for such a significant decision.
Conservative Richard John said that there had been "confusion" between cabinet members over how the decision was made which Cllr Thomas struggled to recall which showed "it hadn't made much impact".
Cllr Thomas, who was also critcised for initially responding to the public questions by saying many were "more statements than questions", said he would join the leader in apologising but wouldn't resign, as independent councillor Simon Howarth had called for him to do, while he had the support of Cllr Brocklesby and the Labour group.