Tributes paid to community stalwart John Wilson, 92
Sunday 27th March 2022 4:00 pm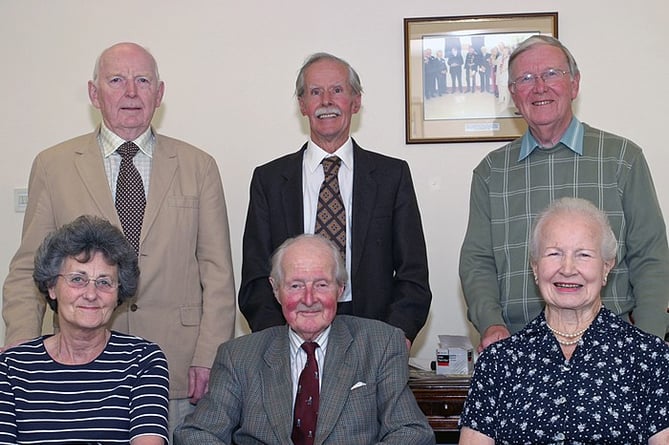 John Wilson, middle back row with members of the Civic society
(Pic from Abergavenny Civic Society )
Subscribe newsletter
Subscribe to our email and get updates right in your inbox.
Tributes have been paid to the late John Wilson who died at the age of 92 earlier this year, recognising his hard work as a local councillor as well as his involvement with local community groups such as the Civic Society, writes Lesley Flynn.
Whatever cause he became involved in, John was always very quiet, stoical but determined to do what he could and right any wrongs.
He was the epitome of public service in every sense of the word, whether it was galvanising people into action or campaigning for a fairer outcome.
Peter Lea, former president of Abergavenny Chamber of Trade said: " Before he came to Abergavenny John was involved with the Ockenden Venture, a post-war charity in Surrey helping to give young Eastern European refugees a start in life rather than leaving them in a refugee camp.
''How poignant that sounds now and I know John would have been so upset by what is happening in Ukraine today. John always looked for ways to help and that is why he became a councillor.
"He and his dear wife Eileen took a great interest in so many activities in the town and they were a team, not only in their gardening business but also in their support of so many organisations and their love of music. They both wanted to nurture and help those causes in their own very quiet but hard working way because that was a part of their DNA."
John and his wife ran their gardening business from their home at Pentrebach, Llantilio Pertholey.
In 1979 when John was chairman of the Civic Society there was great public disquiet over the planned redevelopment of High Street by Monmouth District Council.
The Abergavenny Residents and Ratepayers' Association was formed and for the 1979 local council elections they put forward candidates.
The swell of public opposition led to a group of independent candidates challenging the sitting Conservative members for their seats.
The five independents romped home to a landslide victory over the Tory councillors with local businessman John Sullivan, who had led a year-long campaign against the redevelopment topping the poll with 1,634 votes, local licensee Bill King polling 1,027 votes and John Wilson 952, against the MDC chairman Trevor Morgan with 749, Kendall Broadbank 644 and Gethyn Jones 588 in Castle and Priory ward.
It was the biggest turnout Abergavenny has ever known.
In the Cantref and Grofield ward independents Pamela Heath and local businessman Alan Long took the seats held by Tories Stanley Clark and Ronald Popple Brown, the new chairman elect, with three-figure majorities. Norman Slade, representing Abergavenny Residents' and Ratepayers Association was also elected.
As a result Bill King, Alan Long and Norman Slade were thrown out of the Abergavenny Conservative Club for standing against official Tory candidates, along with Peter Lea who acted as their agent.
The Independent candidates were dubbed The Famous Five, and speaking on their behalf as they took their seats John Wilson said: "It shows what we can do when we wake up. Don't let us lose the chance to work together to make Abergavenny a happier place.
"We do not need to spend money or wait for council decisions. We can start today."
The group called for action groups from the interested residents to tackle the biggest jobs that needed to be done and said tenants' associations should be formed on all housing estates to keep the council informed of what needs to be done, and to help each other in things such as shopping for the sick and elderly and doing gardening and other jobs and generally being good neighbours - an echo of today's generation helping each other during the current pandemic.
Well known local businessman John Sullivan said he only knew about John Wilson's death when he saw an advertisement from a firm of solicitors asking people with an interest in his estate to contact them. He said:" I feel so strongly that his passing should be marked and his service to the town recorded.
''John and I were part of the team of independent candidates elected onto Monmouth District Council in 1979. We all came from organisations in the town concerned at the way it was being treated by the council.
"He was so hard working and he devoted himself wholeheartedly to the task in his own quiet way. He was an example to us all and I cannot think of any other councillor who served the residents of his ward better.
"His eloquence in debate was unsurpassed. In those days the independent councillors within MDC were the second largest group in the council but because we were independent we were not recognised as a group therefore we were barred from the decision making process prior to any council meeting. This made our task so much harder so the independents had to question every point of importance so nothing went through unchallenged."
John was a humanitarian in every sense of the word and was involved with the work of the Citizens Advice Bureau, serving as chairman for a number of years.
Comments
To leave a comment you need to create an account. |
All comments 0