A new deal between Monmouthshire County Council and Abergavenny Town Council has created a partnership to support and develop the town's historic Borough Theatre. The County Council is undertaking a major redevelopment of the historic Grade 2 listed facility that is costing over a million pounds. It will create a theatre that is fit for purpose and able to serve the local community for many years to come.
As the ink dried on the five-year deal, which will see the Town Council commit £10,000 each year to support the theatre over that period.
"
This is a major new partnership for the town. Alongside the fabulous local drama and music groups who have used the Borough Theatre as their base for years, we are looking forward to the return of a wide range of professional theatre and entertainment to Abergavenny.
Councillor Martyn Groucutt, Chair of the town's policy and resources committee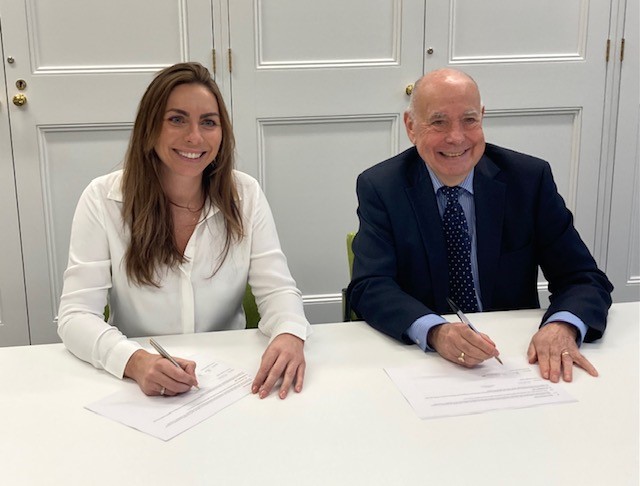 Cllr Lisa Dymock and Cllr Martyn Groucutt signing the new deal
(Pic from Monmouthshire County Council )
The county council's cabinet member for community wellbeing, Councillor Lisa Dymock, said: ''This deal shows the strength of the relationship between our two councils. We are looking forward to developing a strong partnership with the Town Council to create a theatre of which we will all be proud.''
A feature of the partnership is that it sees the Borough Theatre and the town's Melville Centre for the Arts, based in Pen y Pound, agreeing to work together to maximise the impact of the two organisations. There is already a strong desire to collaborate and to make Abergavenny a thriving centre for the Arts. The two venues would be in an ideal situation to bring a wide range of live drama, music and film to the town, each bringing their own strengths and expertise. The deal will also see the two venues work together on a range of projects and they have already won a sizeable award for a project to promote drama among young people.
Overall, the people of Abergavenny and the area can look forward to exciting times as the plans for the reopening of the Borough Theatre towards the end of the summer gather pace.