Abergavenny's very own Stephen Terry was among the fourteen top chefs who pledged to cook up a storm for Tŷ Hafan and last Saturday night (March, 25) they did just that – helping to raise more than £1m for the iconic Welsh charity. 
The chefs took over the kitchens of Cornerstone in Cardiff and each cooked four course meals for 140 members of South Wales' business community to raise vital funds to support Tŷ Hafan's work with children with life-shortening conditions and their families in Wales. 
It is the seventh time that the event has taken place since the very first Chefs' Night Out in 2011. This year's event saw a whopping £265,000 raised on the night, taking the overall total fundraised by Chefs' Night Out to £1.1m.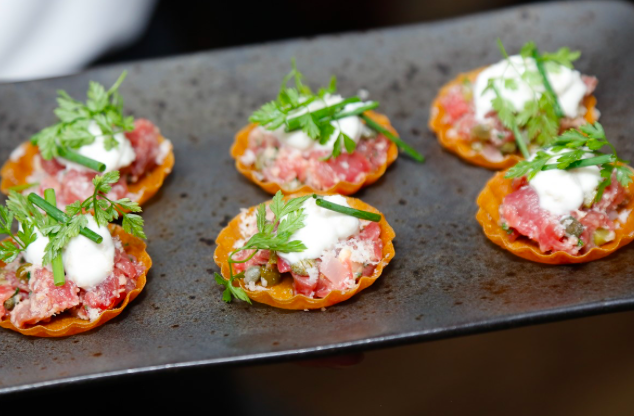 Some of the delicious food served during CNO 2023.
(Photo supplied )
Several of the chefs then went on to help raise yet more money for the Sully-based children's hospice by offering their services to the highest bidders to cook for them at home at a later date. 
Stephen Terry has taken part in every Chefs' Night Out since the event started in 2011. 
Stephen, Head Chef at the Hardwick, Abergavenny, singlehandedly raised more than £60,000 on the night by auctioning his skills for a private dining experience for the highest bidder not just once, but three times over. 
"I'm very fortunate that people like me and what I do," said Stephen.  "I was totally blown away by it all and afterwards I had to pinch myself. I feel very humbled. 
"I love cooking, it's the easiest job in the world and when people were asking if I'd put myself up for auction, of course I said: 'Of course I will!' 
"I've been very fortunate and very privileged to have visited Tŷ Hafan several times and so I know the amazing things that Tŷ Hafan does.  
"One million pounds is an absolutely incredible amount of money for Chefs' Night Out to have raised, but I also know that that will just get sucked up and disappear quite quickly because what Tŷ Hafan does costs a lot of money.  
"That's why anything and everything people can do to support Tŷ Hafan is so important. Every little purchase in one of Tŷ Hafan's charity shops makes such a huge difference. It's such an amazing cause."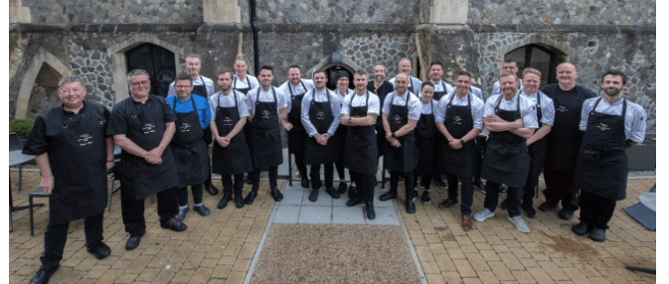 Group shot of all the participating chefs this year outside Cornerstone, Cardiff, the venue.
(Photo supplied )
Chefs' Night Out is the brainchild of David Loosemore, Managing Director of award-winning Cardiff-based property development company Portabella and his friend, Huw Edwards, Head of Auctions, for Seel & Co, also of Cardiff. Journalist and presenter John-Paul Davies was host for the evening.  
Following the immense success of the night, David said: "Huw and I are absolutely blown away by the runaway success of Saturday night, thanks to the generosity of our chefs, guests and support team. It's a life-changing amount of money to raise for such a wonderful cause that is so close to our hearts." 
Rachel Ritter, Head of Major Gifts and Partnerships, said: "It was a privilege to witness the incredible generosity and support that we saw at Chefs' Night Out this Saturday.
I can't begin to describe how hard everyone worked to make the event a success and we cannot thank the chefs enough for what they have done for Tŷ Hafan.  
I also want to offer our appreciation to all of the suppliers and helpers without whom this event would not have been possible.  And of course, to David and Huw who are superstars and whom we cannot thank enough." 
The fourteen chefs to participate in the event included:
Stephen Terry – The Hardwick, Abergavenny 
Roger Jones – The Harrow at Little Bedwin 
Richard Davies – Calcot Manor, the Cotswolds 
David Kelman – Cowley Manor, Cheltenham 
Hywel Jones – Lucknam Park, near Bath 
Hywel Griffith – Beach House, Oxwich 
Fred Clapperton – Coast Saundersfoot 
Douglas Balish – The Grove, Narberth 
Tom Hine – Penmaenuchaf, Dolgellau 
Tom Simmons – Thomas, Cardiff 
Tom Waters – Gorse, Cardiff 
Owen Morgan – Asador 44, Cardiff 
Carl Cleghorn- Thornbury Castle, near Bristol