New figures from property site Zoopla have revealed that Wales and the South West of England have the highest demand for housing in the UK.
The latest House Price Index from Zoopla has revealed that demand for property in the UK has remained higher than the five year average despite the impact of higher mortgage rates.
By the end of 2022, mortgage rates are likely to climb to four per cent, meaning that the income needed by a first time buyer to purchase a home will increase by an average £12,250.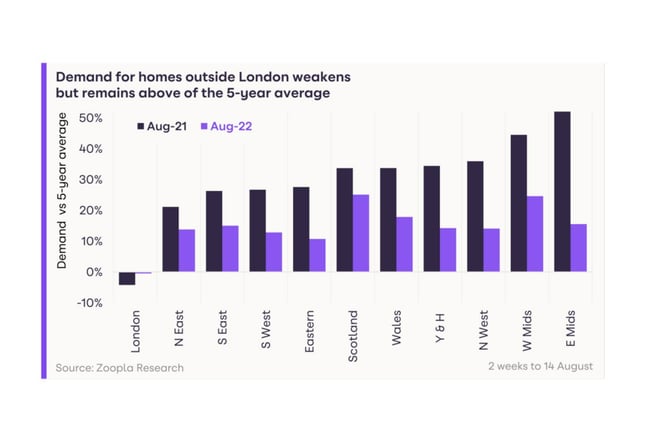 The research looked at all UK regions.
(Zoopla )
House prices across the UK have increased by 8.3 per cent year on year to £19,800, with Wales and the South West being the best performing areas, with annual house price growth of 10.6 per cent in both regions.
Richard Donnell, Director of Research at Zoopla, commented: "The rebound in house price growth across the UK since the pandemic has been led by markets in Wales and the South West as well as parts of Kent and East Anglia.
"Many UK households have re-evaluated their housing needs and have looked to upgrade where they live or relocate to be closer to friends and family or for a better quality of life.
"In Wales price growth is strongest in Carmarthenshire and Neath at close to 12 per cent and slowest in Ceredigion at a UK average of eight per cent"
Demand has fallen to under a third of levels seen in spring, however, at 17 per cent nationally, it's still above the five-year average. Zoopla reported that first time buyers are now the largest buyer group, accounting for up to 35 per cent of sales this year to date.
Richard continued: "The housing market has been resilient to the rising cost of living so far.
"The new energy price cap will add to the pressure facing households especially those on lower incomes.
"We see the recent jump in mortgage rates having a greater impact on housing market activity and prices moving ahead.
"First time buyers on lower incomes, those looking to trade-up using a bigger mortgage and buyers in the south east of England will all feel the greatest impact on affordability.
"We expect a growing number of households to continue to re-evaluate their homes as a result of ongoing pandemic factors and with further impetus from the rising cost of living. This will support overall sales numbers but the rate of price inflation will continue to slow."