Powys Labour leader calls to stop Universal Credit cut
Thursday 9th September 2021 8:40 am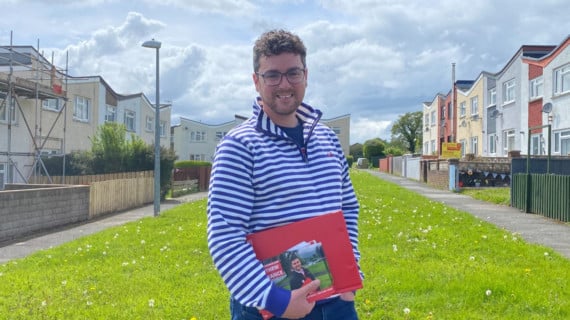 Subscribe newsletter
Subscribe to our email and get updates right in your inbox.
The Labour Leader for Powys County Council has joined the call to the UK Government to cancel its planned cut to Universal Credit.
Cllr Matthew Dorrance said the plan will "hit low paid working families hardest" during the run up to Christmas.
Cllr Dorrance joined politicians across Wales, England, Scotlan and Northern Ireland to voice his concerns after figures were released by the Wales co-ordinating body of trade unions, Wales TUC, which sho wmore than 8,000 families in Powys will lost more than £1,000 a year.
Wales TUC has 48 member unions and it represents around 400,000 workers wile campaigining for fairer work and social justice.
Cllr Dorrance, pictured right, said: "The UK Government's plans to cut Universal Credit will hit the lowest paid hardest and hurt our economic recovery. Thousands of families in Powys are set to lose more than £1000 a year while out of work support will be left at its lowest level in decades.
"The Universal Credit cut comes as furlough ends for thousands of workers and energy bills rise because the price cap is being lifted. The UK Government needs to act now to protect the incomes of the lowest paid in our county.
"Charities, Trade Unions, the devolved administrations and prominent Conservative MPs all oppose the planned cut to Universal Credit. The UK Government needs to show some humility, back hard-pressed families in Powys and cancel the cut to Universal Credit."
In July, Wales TUC reported that new analysis showed that the Universal Credit - which is a lifeline for many households both working and unemployed - cut would affect 280,000 people across Wales.
From its analysis, it also reported that 104,000 of those people - 37 per cent - who will be impacted in Wales are people in work.
Wales TUC, which also reported that Working Tax Credit is also being cut having only been raised by £20 per week in early 2020, said that some of the worst hit will by low-paid key workers.
Based on its July research, Wales TUC said: "60,000 children in key worker hourseholds are currently growing up lin porverty - with many currently recieving in-work benefits like Universal Credit."
Despite calls from politicians across the UK to keep the £20 boos, the UK Government are still planning to scrap the cut in early October which the UK work and Pensions secretary Therese Coffey has defended saying that the Government's aim is now to support people back into work as the exonomy is re-opening.
The boost was introduced last year to help those who had been financially impacted by the virus before being extended in March this year.
A coalition of charities, businesses and a Tory think-tank also came together to urge o the UK Prime Minister Boris Johnson on Thursday, September 2, to stop the cut.
The varied group, which includes Oxfam, Save The Children, The Trussell Trust, Business in the Community, the Royal College of Paediatricians and Child Health as well as the Tory think-tank Bright Blue warned that the cut risks "causing immense, immediate, and avoidable hardhip" while pointing out that those worst hit would be poorer families who are already in work.
A UK Government spokesman sadi: "The uplift to universial credit was always temporary.
"It is right that the government should focus on our plan for jobs, supporting people back into work and supporting those already employed to progress and earn more."
Comments
To leave a comment you need to create an account. |
All comments 0