On International Women's Day, Wednesday 8th March, Abergavenny's Well-being Hub is hosting a workshop providing information, support and promoting Period Dignity.
Between noon and 6pm, anyone is welcome to pop along and get involved in the event organised by Monmouthshire County Council. Whether you're a parent wanting advice on how to talk to your child about periods, finding out about reusable products, or even making your own reusable sanitary towels, there's plenty of reasons to visit.
Fathers with young people who are around the age of menstruation are also welcome and will have the opportunity to take away a 'Dads and Pads' book aimed specifically for dads,  plus some 'first time' type products.
The Period Dignity workshop on Wednesday 8th March is part of Monmouthshire County Council's Period Dignity work supported by Welsh Government funding.
Molly Fenton from Cardiff founded the 'Love Your Period' campaign while an 18-year old A-Level student. Since then the campaign to end period poverty and stigma for school pupils all over Wales has grown from strength to strength. 
Caldicot's TogetherWORKS will be there to help make a pack of re-useable sanitary towels, while Sally Amos, a Healthy schools practitioner, will run a Q&A about healthy periods.
Claire Duddridge from Little Pips in Caldicot will also be bringing Heti the little hygge caravan along. It's a safe space and gives parents a chance to feed their babies, change nappies, warm bottles or simply grab five minutes away from the crowd. Claire will also be on hand to chat about well-being.
Additionally, the team will be handing out free Hey Girls and TOTM products and will be more than happy to chat through options with you. You can also sign up for Sustainable You, Sustainable Me period dignity workshops.
There will also be information about menopause and about Women's Aid available.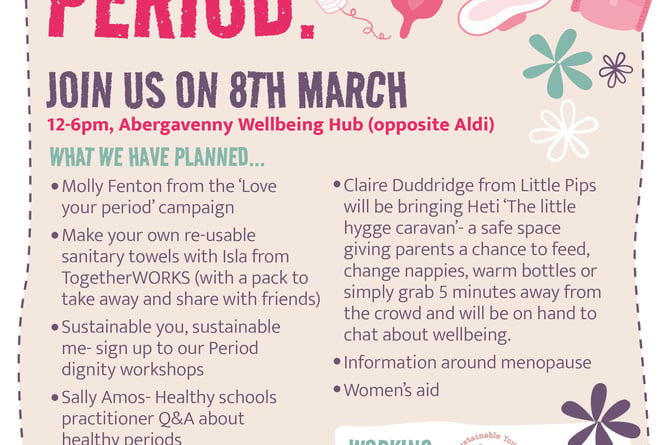 Monmouthshire County Council's Cabinet Member for Equalities, Cllr. Catherine Fookes said: "The Period Dignity work that we are doing, funded by Welsh Government, is an important step forward in removing the stigma associated with periods. We hope that by working together we can support young people and people of all ages with information and events such as this. It is fitting that this should take place on International Women's Day and I encourage anyone who might find it helpful to go along at any time between noon and 6pm.
"Many are experiencing period poverty due to the cost of living crisis, so it's important to know that there are now free reusable and sustainable/plastic free disposable sanitary products available in over 40 locations across the county, including leisure centres, libraries, museums and schools. Together we can tackle Period Poverty and promote Period Dignity."
 Cllr. Angela Sandles, Cabinet Member for Engagement, further added: "I would like to thank Molly Fenton and all the organisations involved for coming together for this workshop. By reaching out to the community, and to young people through schools, I hope that we can stop periods being a taboo subject. As we move forwards, we will be working with schools, sports clubs, and more organisations to offer products and education around healthy periods."
Love Your Period founder Molly Fenton expressed her delight in being involved as she commented, "We are thrilled to announce that the Love Your Period Campaign will be attending Monmouthshire County Council's International Women's Day event in Abergavenny on March 8th. Period dignity and equity is a crucial part of most women's lives, and something that still is a barrier for so many when it comes to gender equality, so it's important that we recognise how the entire menstrual cycle works and changes our day to day lives."
The Period Dignity workshop is taking place at Abergavenny's Well-being Hub (opposite Aldi) from noon to 6pm on Wednesday 8th March.
If you are part of a community group or organisation and would like to enquire about hosting a workshop contact [email protected]