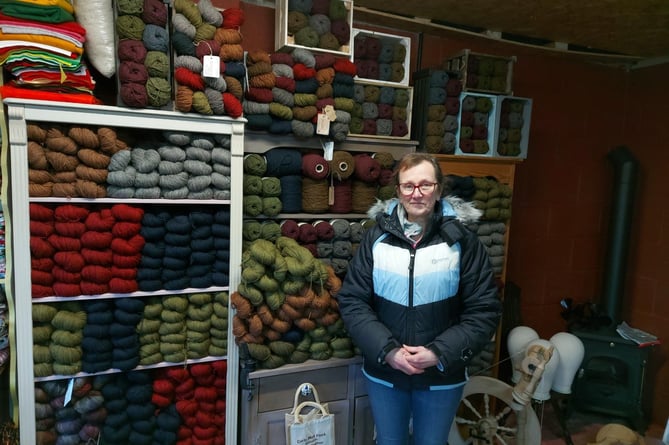 Tracey Russell owns and runs FlopiseWoo Sewing and Craftwork
(Pic by Jon Davies )
Subscribe newsletter
Subscribe to our email and get updates right in your inbox.
A local craftswoman who produces wool from her own flock of pedigree sheep is opening a new workshop studio teaching others how to craft, writes Jon Davies.
FlopsieWoo Sewing and Craftwork is an online store owned and run by Tracey Russell, specialising dress-making, sewing, crafts, knitting, crochet and upholstery.
The wool used in Tracey's products is locally sourced from her flock of 32 pedigree Shetland sheep at her home of Pen Doycae Farm in Govilon.
Tracey's 32-acre farm which also contains two Angora goats is situated amongst ancient woodlands just below Keepers Pond.
She set up FlopsieWoo a couple of years ago online through social media, and her work has proven so popular that she has now decided to set up a workshop and studio at her home.
The workshops will cover every stage in the process of fleece-making with fleeces being washed and carded before being spun and plied for final stage as wool.
Tracey has a number of machines to help her with the wool-making process including a table lune for weaving, as well as a spinning and carding machine.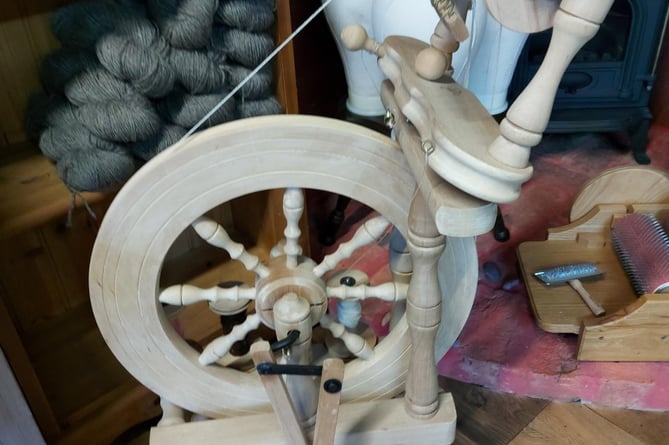 Tracey's spinning machine
(Pic by Jon Davies )
Tracey also does artisan craft at Abergavenny market and has been doing so for four years, and used to teach wool craft having done crafting her whole life.
Through her work at Abergavenny Market and advertising online, Tracey already has a waiting list of customers for her workshops.
Speaking about her new venture Tracey said: "I have been delighted and overwhelmed with the feedback I have had and the interest shown in the workshops. It really is fantastic to know so many people are interested in learning craftsmanship such as sewing and knitting."
The wool produced on Tracey's farm is a natural, self-regulating product.
She produces numerous forms of clothing including scarfs and blankets, upholstered chairs and has even produced her own specialised brand of PenDoycae bears from upcycled Welsh blankets stuffed with carded wool.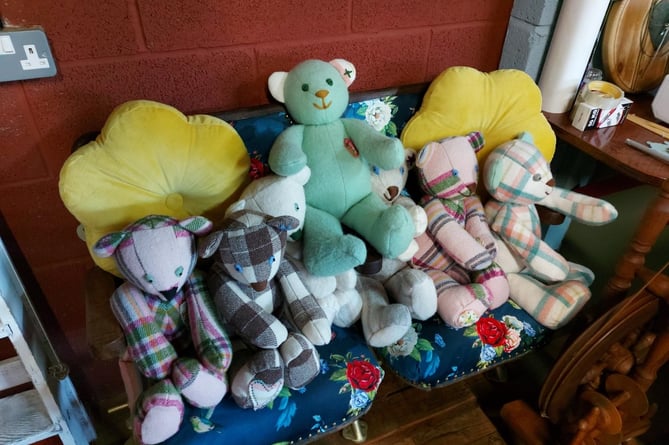 Tracey's specially made PenDoycae bears
(Pic by Jon Davies )
In order to keep her products connected to the local area, Tracey uses colours and natural dyes that represent the Brecon Beacons.
Tracey has received glowing reviews of her products through her work at the market, including a weaver from St Fagans Museum who said her wool was some of the best he had ever seen locally produced.
Tracey is part of Made in Monmouthshire group and will be joined at some of her workshops by other artists from the group who will assist her.
Tracey will be hosting crafting sessions of anything of up to ten people per class and will also be running one-to-one classes. She also plans to use the studio for other groups to use including yoga sessions, and hosting hen dos or birthday parties.
Tracey's late mother who sadly died at the end of last year had been a constant source of encouragement to Tracey setting up the business and beginning the workshops
"It has been difficult and emotional time for me the last year, but my mother really encouraged me to carry on with the business and loved the idea of me teaching others different forms of crafting.
"I think over the last few years with Covid and people being forced apart from each other, we have learnt to appreciate each other more and people now are looking at producing items and gifts that are more personal which is where crafting comes in.
"I hope that everyone who comes along can learn something new and have some fun at the same time."
For more information on Flopsiewoo Sewing and Craft work and signing up to Tracey's workshops please visit her Facebook page and website https://www.flopsiewoo.co.uk/
Comments
To leave a comment you need to create an account. |
All comments 0