The Met Office has issued a yellow weather warning over Abergavenny and most of Wales for today, 6 March and Tuesday, 7 March for snow and ice.
Longer journey times by car, bus and trains is to be expected with roads and railways being affected by possible weather conditions.
Injuries from slips and falls will be very possible with some icy patches on untreated pavements and cycle paths. Roads are also likely to be slippery.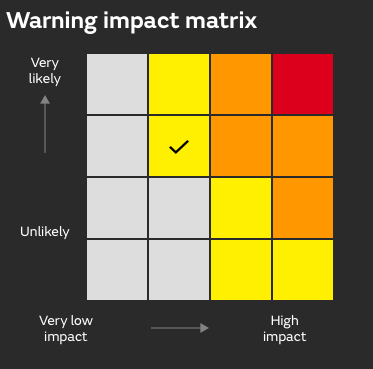 The Met Office's warning impact matrix, indicating that the snow and ice is likely to happen with a low impact.
(Met Office)
A band of rain will move southwards through the course of Monday evening and early Tuesday.
The rain will turn to snow on the hills and possibly in lower places.
Many areas will see little or no accumulations of snow, but one to two centimetres could settle in some spots, most likely over high ground and southern parts of the warning area. 
The rain and snow is then expected to turn light and patchy as it slowly clears. As skies clear overnight, ice is also likely to form readily on untreated surfaces.
See the Met Office's advice for staying safe in the snow by following the link here: 
https://www.metoffice.gov.uk/weather/warnings-and-advice/seasonal-advice/stay-safe-in-snow