Firefighter Martin's farewell after 40 years in the service
Monday 25th April 2022 4:00 pm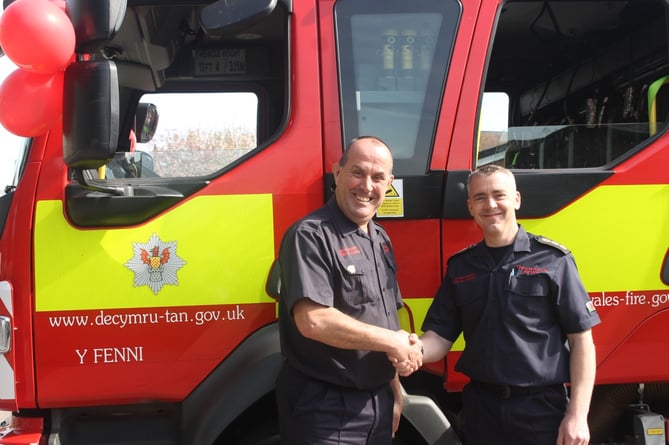 Martin Hinksman is congratulated by station manager Darren Cleaves
(Pic from Lesley Flynn )
Subscribe newsletter
Subscribe to our email and get updates right in your inbox.
Abergavenny firefighter Martin Hinksman retired from the brigade on Saturday April 16 after more than 40 years protecting the people of the area and he bowed out in style, writes Lesley Flynn
Martin chose his final day to be when the Abergavenny firefighters welcomed members of the public back to the station for the first time for almost three years.
He joined in July 1981 aged 21 after being fascinated by stories of firefighting by Clive Jones, a member of the Abergavenny brigade, who ran a garage near Martin's home. Station Officer Ben Woolley was then in charge and Martin has served under 10 leading officers since then. Martin's uncle Alex Hinksman served in the old Monmouthshire brigade from 1954 until 1958 when he moved to live in London. In those days they were known as a retained firefighter, these days they are on-call firefighters. Clive Jones invited Martin to go along and see what the role involved and Martin said he was instantly hooked.
He will not be retiring from the South Wales Fire and Rescue Service completely because he works at the fire service training school in Cardiff Gate, a job he has enjoyed since 2008. He recalled some of the most memorable events during his long years of service: "There was the incident where an A10 aircraft crashed into the side of the Black Mountains in the Cwmyoy area and another time we had to free a cow which had its head stuck in a cement mixer by cutting the machine into pieces."
But he is constantly reminded of a house fire he attended in 1995 when he carried a three year old boy to safety while his colleagues helped the child's mother and baby sister to escape the thick smoke. He said:" It was a house fire in Commercial Street which was caused by a painter using a blow torch on the outside of the property which ignited the fascia. It was well alight when we arrived and the occupants were still inside. We tried to gain entry via the back door to the kitchen and the mother passed her toddler to me while others took her and the baby to safety."
That little boy was Stephen Woodhouse who joined the Abergavenny Fire Station crew four years ago.
He said: "After the fire we were in temporary accommodation until we were given a house in Underhill Crescent. I had been told about the fire but did not realise until I joined the brigade that it was Martin who had rescued me. My first shout was with Martin and Michael Butler and they told me." Stephen works for the fire service in the evenings and at weekends when he is available from his career with a firm which makes imprinted concrete. He is very enthusiastic about his part-time role, "It is the best job in the world."
Abergavenny Station Manager Darren Cleaves thanked Martin for his 40 years of dedication. "It is a massive commitment from Martin. What he has given to Abergavenny is something not many people will achieve, probably only a handful can do that."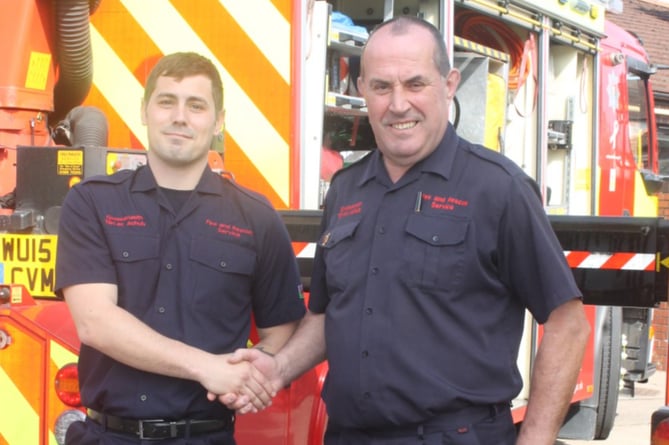 Stephen Woodhouse thanks his colleague Martin for rescuing him from a house fire when he was just three years old
(Pic from Lesley Flynn )
Comments
To leave a comment you need to create an account. |
All comments 0