The Met Office has issued a yellow weather warning over Abergavenny for today, 17 January and tomorrow, Wednesday 18 January for snow and ice.
Snow showers are likely to occur through Tuesday afternoon, and continue overnight and into Wednesday morning.
Accumulations of a couple of centimetres are likely at low levels. Higher ground could see up to 10cm of snow. Icy stretches are likely to form following the snow showers.
Roads and railways are likely to be affected by the snow and ice resulting in delayed transport and longer journey times.
Injuries from slips and falls are increasingly more likely to happen, with some roads and pathways left untreated.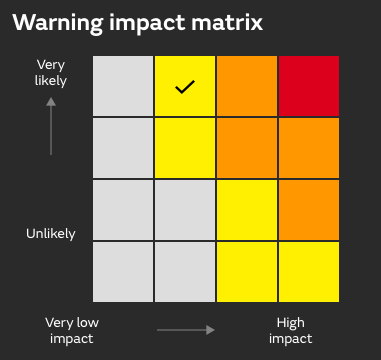 The Met Office's Warning impact matrix says that the snow and ice is very likely to occur but with a small impact.They have also issued information on what to do in the event of frozen or burst pipes.
This information can be found following the link below:
https://www.metoffice.gov.uk/weather/warnings-and-advice/seasonal-advice/your-home/frozen-or-burst-pipes