A 26-year-old man from Crickhowell has shed light on the struggles he has faced as a young farmer and the innovative solutions he's using to get by. 
Will Land took over Park Farm in Llangattock last April and admits was a "big shock for someone only 24 years old."
Will said: "I grew up around farming, it has always been an ambition of mine to farm and I have been lucky enough that the land owner has allowed me to rent their land. 
"But I will admit it was a struggle when I first started. It's such a big farm, 2022 was a dry year and the cost of living didn't make it easy either."
Will is one of many in the industry concerned about the future of farming in Wales. Recent statistics show the average age of a farmer in Wales is 60 years old and only three per cent of farmers are under 35 years old. 
"There aren't many young people coming into farming now because of the lack of tendencies available to them and the fact older farmers aren't stepping aside." He added. 
Struggling to keep the farm open, Will took up a new business venture hoping to invite young people in, introducing them to agricultural work while simultaneously giving Park Farm the financial boost it needed. 
He opened a maize maze and a pumpkin patch and despite starting relatively late in the season, it was a success. 
Being such a big hit last year, Will has tripled the maize maze in size this year and given it a 'King's coronation' theme.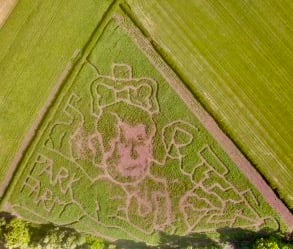 Park Fam Maize Maze, King's Coronation themed
(Will Land)
In April last year, the concerns Will had surrounding the future of farming was highlighted in the House of Commons Committee report which addressed the challenges faced by the farming community in Wales and the urgent need for government support. 
The report revealed Wales' farming community's struggle financially with recent data revealing 19 per cent of Welsh farms reporting a farm business income of less than zero, with the average income at £26,000 per farm. 
In the report, The Nature Friendly Farming Network (NFFN) urged the government to provide financial incentives for young farmers and newcomers, including grants for machinery and equipment. 
The Farmers Union of Wales emphasised the importance of encouraging retiring farmers not to sell their land for forestry purposes but to lease their farms to young people, like Will. 
The NFU also released the 'Framing the future for the next generation' report in June this year as a celebration of young farmers in Wales and included recommendations as to how the Welsh Government can support the next generation of farmers. 
The report included suggestions such as, exploring ways to make it easier for new, young entrants to access finance, prioritising home-produced food and ensuring children in schools are taught about Welsh farming. 
A Welsh Government spokesperson said: "We want to make sure new and young people can enter the industry and bring their energy and fresh ideas. In preparation for the Sustainable Farming Scheme, which will be the main support for farmers from 2025, we have been working with stakeholders to explore opportunities around the specific challenges to new entrants such as access to land and finance. We want the Sustainable Farming scheme to be accessible to everyone, and will be consulting on the final scheme towards the end of this year.
"We are also supporting young farmers living in rural areas through programmes such as Farming Connect's Start to Farm, matching farmers and landowners who are looking to step back from the industry with new entrants looking for a way into farming."
Schemes in Wales implemented to help young farmers into the agricultural industry:
The 'Start to Farm' initiative looks to encourage individuals in Wales looking to run their own farm in the future to consider a joint venture. Farming connect matches up a farmer and a landowner. An individual looking to step back from the industry would be matched with an aspiring farmer. For more information on this scheme go to https://businesswales.gov.wales/farmingconnect/business/start-farm
In the past, the Welsh Government also implemented the 'Young People into Agriculture Scheme'. This scheme worked to get young people into farming by offering a start-up aid to establish or develop an existing business. This scheme was developed as part of the Budget agreement with Plaid Cymru in 2018.