When froggy went a courtin' look what he did find!
Friday 5th April 2019 9:52 am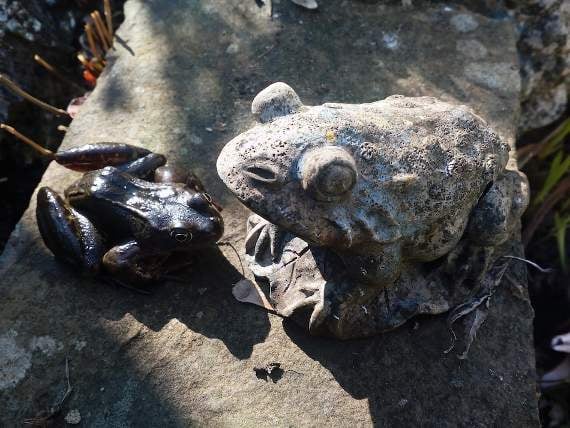 Subscribe newsletter
Subscribe to our email and get updates right in your inbox.
EVER fallen in love with someone you shouldn't have fallen in love with?
The frog in this picture definitely has, and it looks like the statuesque beauty who has captured the luckless Lothario's attention definitely has a heart made of stone.
The striking photo which captures the very essence of unrequited love was snapped by Govilon lady Carol Weeks.
The wildlife lover has a pond in her garden with a giant stone frog perched on the outside of it. Last Friday Carol noticed that the stone frog called Felicity had a gentleman caller, dubbed Fernando, who is a real-life, pond-dwelling, fly-eating frog. Felicity is not. She is just a garden ornament. But her chiseled contours and graceful symmetry have definitely sent Fernando head over heels.
Carol told the Chronicle that the lovesick frog remained unmoving and unblinking by Felicity's side
for what seemed like an eternity, or at least a few glorious sun-drenched hours.
Since abandoning his green goddess to return to the watery depths of his pond, Fernando has hopped right back nearly every day to woo his lady love with a series of heartfelt croaks, but Felicity, by her very nature, is proving extremely hard to please.
Oh well! God lovers a trier, and as the song goes, "There was something in the air that night. The stars were bright, Fernando."
Comments
To leave a comment you need to create an account. |
All comments 0