Three Peaks Trial attracts walkers from all over the country
Wednesday 13th April 2016 2:20 pm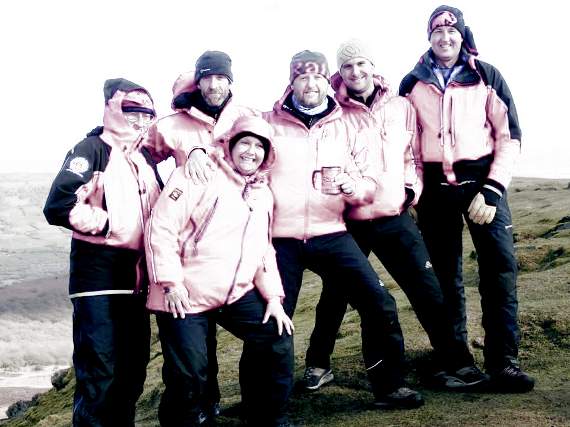 Subscribe newsletter
Subscribe to our email and get updates right in your inbox.
Almost 800 people took to the hills around Abergavenny last weekend and raised thousands of pounds for charity in the annual Three Peak's Trial.
The trial is the UK's oldest challenge walk and was launched in 1963 as a test of endurance and map-reading skills.
The event is organised by Cardiff Outdoor Group and marshalling at check points on all the peaks was provided by members of Abergavenny-based Longtown Mountain Rescue Team.
Walkers came to Abergavenny from across the UK and although the day started with low cloud and rain, conditions cleared and the sun shone by the afternoon.
The Three Peaks Trial is made up of four different routes.
The Platinum Route is a linear walk of about 17 miles and 5,000ft of ascent from Llanthony Abbey to Abergavenny over Bal Mawr, Pen Cerrig Calch and Sugar Loaf. It's the most challenging of the walks and the first walker back was David Little, from Bristol who returned at 1.17pm.
The youngest competitors on this route were two 17-year-olds, Aled Phillips, from Solihull, who returned at 4.32pm and Kieran Knight, from Raglan, who got back at 6.33pm. The oldest on this route was Brian Petty, 75, from Bristol, who got back at 15.28pm.
The Gold Route is the original challenge - a circular walk of about 20 miles and 5,000ft of ascent, which crosses over the Blorenge, Sugar Loaf and Skirrid. Walkers are never far from civilisation yet there is no obvious route so that concentration on map reading is essential to keep to the best route.
Richard O'Shea (pictured left), from Abergavenny, was the first back for the second year running. He returned at 11.44am after leaving Abergavenny at 8am. The youngest on this route were two 12-year-olds; Lloerhian Morgan, from Chepstow, who got back at 5.33pm and Thomas Lewis, also from Chepstow, who got back at 7.09pm. The oldest was 67-year-old Rollo Lewis, from Abergavenny, who got back at 4.05pm.
The Silver Route is a circular walk of about 15 miles with 4,000ft of ascent. It follows the Gold Route from Abergavenny over the Blorenge and Sugar Loaf, then descends back to Abergavenny. The fastest on this route was Philip George, from Gloucester, who returned at 12.10pm. The youngest on this route was 11-year-old Chantal Martinez, from Kenfig Hill, who got back at 5.36pm while the oldest was Steve Waring, 69, from Usk who returned at 3.40pm.
The Bronze Route is a circular walk of about 10 miles and 2,000ft of ascent. The route goes from Abergavenny to the summit of Sugar Loaf and then descends by a different path. A group of five arrived back together at 1.05pm. They were Fiona Richardson from Reigate, Surrey; Verity Langley and Paul Manser, both from Eastbourne; and Dave Baylis and Wayne Rattle, both from New Inn. On this route the youngest were a group of three 12 year olds - Olivia Fowler, Harriet Wood and Jodi Fear from Weston Super Mare, who got back at 13.35.
Coordinator Chris Lewis, from Cardiff Outdoor Group, said, "It's been another incredible fundraiser. We couldn't run this without the help of so many people and organisations.
"Our thanks go to Longtown Mountain Rescue Team for the superb work in marshalling all the mountain top checkpoints. The weather conditions in the morning were particularly bad but LMRT still did a fantastic job.
"We'd also like to thank all of the 768 Walkers who took part in this year's event, the St David's Hospice Foundation and Elenydd Wilderness Trust, whose volunteers assisted Cardiff Outdoor Group in checking in walkers and supplying them with refreshments on their return, Councillor Nick Tatum of Abergavenny Town Council who helped in a number of roles throughout the day and the other charities and fundraisers who supported the event – The Vine Trust, Emmaus South Wales and The Brain and Spine Foundation."
Longtown MRT team leader Luke Lewis added, "The Three Peaks Trial is a big event in the team's calendar and our members were on checkpoints on the mountain tops around Abergavenny for up to 12 hours so we were all relieved when the sun came out.
"It was a great team effort from everyone involved in the day and we had some great feedback from all who attended and most of all we are happy to report we had no major injuries to deal with, just a lot of tired legs."
Comments
To leave a comment you need to create an account. |
All comments 0