Proposed tourism tax would 'devastate Wales'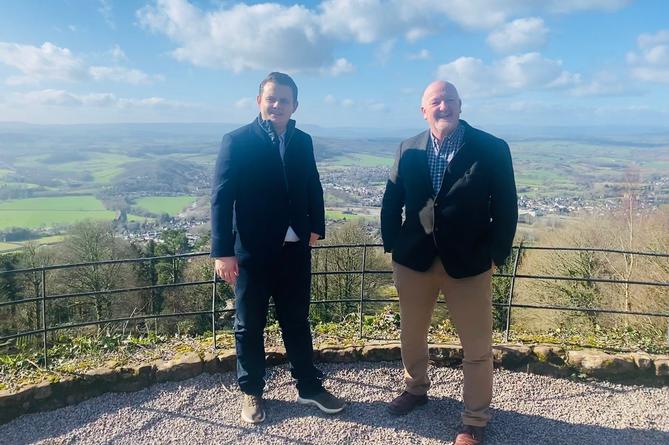 Tom Giffard and Peter Fox at the Kymin
(Pic from Welsh Government )
Subscribe newsletter
Subscribe to our email and get updates right in your inbox.
A TOURISM tax would devastate Wales by "grinding" jobs and businesses "into the ground", two leading politicians have warned.
This month, the Welsh Government announced that a formal consultation on proposals for a tourism tax will launch in the autumn.
The announcement triggered widespread condemnation by the tourism industry in Wales.
And last week, Peter Fox, the Member of the Senedd for Monmouth and Shadow Minister for Finance, and Tom Giffard, Member of the Senedd for South Wales West and Shadow Minister for Culture, Tourism and Sport, visited a Welsh tourism hotspot – Monmouthshire – to pledge their continued support to the vital industry.
Mr Fox said: "It was an absolute pleasure to welcome Tom to Monmouthshire which is widely regarded as the showcase of Welsh tourism.
"But worryingly, tourism in this area – and elsewhere in Wales – would be under threat, if the Welsh Government imposes its tourism tax. The tax would devastate Wales' tourism sector by hammering jobs and businesses.
"Welsh government ministers need to understand that the fallout isn't worth the risk.
''We urgently need to help businesses, not grind them into the ground."
Mr Giffard said: "The Welsh government's plan to pursue a tourism tax is utterly illogical, given it would undoubtedly create a black hole underneath our economy.
"Welsh government ministers need to understand that jobs and businesses would collapse under this tax and, once they have disappeared, they will not come back.
"Therefore, I will do everything I can to prevent the Welsh government imposing such a disastrous tax on to Welsh tourism."
The Welsh government is calling the proposed tourism tax a local visitor levy and confirmed the consultation on the proposals will launch in autumn 2022. Rebecca Evans, minister for finance and local government, said a levy would enable destinations in Wales to be enjoyed for generations to come.
She said tourism provides a substantial economic contribution to Wales with tourism-related expenditure reaching more than £5bn annually in 2019.
A tourism tax would raise revenue for local authorities enabling them to manage services and infrastructure which makes tourism a success.
The Welsh government's Programme for Government, and the Cooperation Agreement between the Welsh Government and Plaid Cymru, both contain commitments to introduce levies.
Minister Rebecca Evans, said: "Visitor levies are a common feature in tourist destinations internationally.
''They are an opportunity for visitors to make an investment in local infrastructure and services, which in turn make tourism a success.
''Without such a levy, local communities face an undue burden to fund local services and provisions on which tourists rely.
''From keeping the beaches and pavements clean, through to maintaining local parks, toilets and footpaths – the critical infrastructure that supports tourism should be supported by all those that rely on it.
"The introduction and subsequent use of such a levy would enable destinations in Wales to be enjoyed for generations to come and encourage a more sustainable approach to tourism.
"The levy would be proportionate by design, and powers to raise the levy would be discretionary for local authorities. This would enable decisions to be taken locally, according to the needs of our communities.
''The levy will apply to those paying to stay overnight within a local authority area. Opportunities for wider contributions on the cost impact of other types of visitor activities on local infrastructure will be offered as part of the consultation on the levy."
Comments
To leave a comment you need to create an account. |
All comments 0