A FORMER health boss who was facing trial for murder after police found his partner's body buried in their garden, killed himself in jail an inquest jury has ruled.
Stuart Williamson was arrested in Abergavenny on October 30, 2021, after forensic investigators had unearthed the remains of Diane Douglas at their remote £850,000 farmhouse, 250 miles away in Norfolk, three years after she was last seen by her family.
Four days after Christmas 2021, the 56-year-old was found dead in his HMP Norwich cell, with a knife wound to his neck.
The inquest in Norwich heard that prison staff knew that the former mental health nurse and senior health trust manager had suffered depression and breakdowns, and had a history of previous suicide attempts.
Days before his arrest and after police had begun searching the farmhouse, officers were called to an incident where Williamson had drunk vodka and walked into the sea, the inquest heard.
His sister, Dianne Collins, said in a statement: "A long sentence would be unbearable for Stuart and I feel he pre-planned his departure from this life."
The jury ruled that his death was suicide on the balance of probabilities.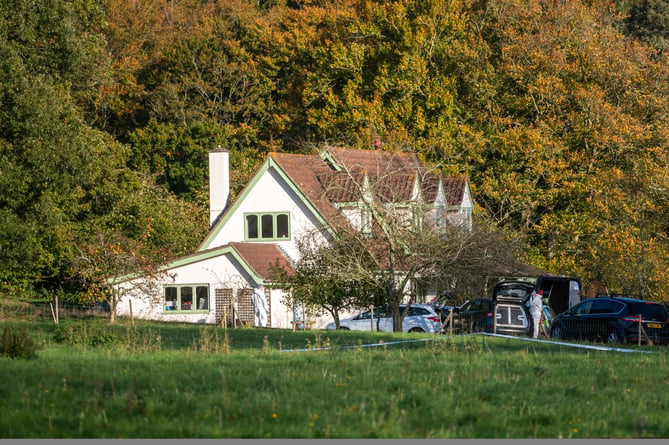 Meadow Farm
(James Linsell-Clark/ SWNS )
Police found Diane Douglas' remains buried beside a garden shed at Meadow Farm in Colton, after family members reported on October 21 2021 that she hadn't been seen for three years.
Shocked neighbours looked on as forensic officers worked behind a white scene of crimes tent outside the three-bed property, which is 400 yards down a track and around five miles from the nearest main road, and where Williamson had most recently been living with a different partner,
Police had initially launched a missing person probe, but escalated it to a murder investigation, despite there being no body at the time, before tracking Williamson down to Abergavenny and making an arrest.
Norfolk Police said after he was charged: "Officers searching a property on the outskirts of Norwich as part of a 'no-body' murder investigation can confirm human remains have been found.
"Diane Douglas was reported missing on Thursday, October 21, 2021 by family members.
"Stuart Williamson, 56, and of Barford Road, Colton, is accused of murdering Diane between December 1-31 in 2018, when she would have been aged either 55 or 56.
"Williamson was arrested on Saturday, October 30, in Abergavenny, Wales, and was brought back to Norfolk for questioning."