In a Commons debate (April 25), the Labour Party, supported by the Liberal Democrats, pushed for a vote on the Water Quality (Sewage Discharge) Bill. The bill, introduced by Labour's Shadow Environment Secretary Jim McMahon, aimed to impose automatic fines on water companies that dump sewage into rivers, lakes, and the sea. However, the bill failed to garner the support of Conservative MPs, leaving the fight for clean water in limbo.
Hereford and South Herefordshire MP Jesse Norman, Forest of Dean MP Mark Harper, Herefordshire North MP Sir Bill Wigging, and Monmouthshire MP David Davies all voting to block the bill.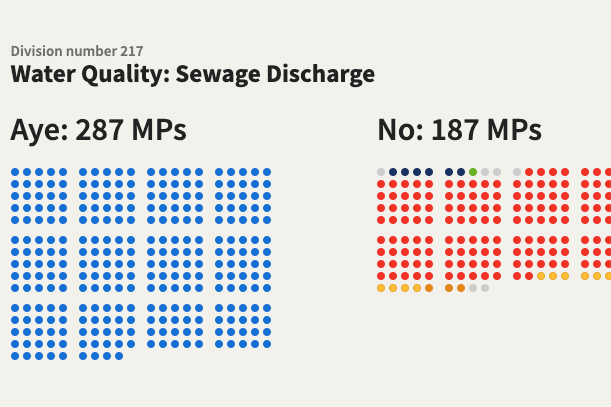 The proposed legislation sought to set legal requirements for monitoring all sewage outlets and implement legally binding targets to reduce sewage dumping events. Water companies that failed to comply with these rules would face fines. Despite the clear environmental and public health benefits, the bill could not secure backing from the Conservative benches.
In response to the debate, the government confirmed its plan to reduce storm overflows and enshrine it into law. The plan requires water companies to improve storm overflows discharging into or near bathing waters and nature sites by 2035, with all storm overflows targeted by 2050. However, Labour criticised the government's plan as a "recycled press release" that lacks substance.
During the debate, McMahon said, "It is clear that we have a Tory government that has run out of ideas, only regurgitating old announcements that do nothing to end sewage dumping." He urged Conservative MPs to support Labour's Water Quality Bill to end sewage dumping for good.
The Liberal Democrats echoed McMahon's sentiments, with their Environment Spokesperson Tim Farron calling it "judgment day" for Tory MPs. Farron accused the Conservatives of protecting water firms over the environment, stating, "Communities across the country have had enough of Conservative MPs who would rather protect water firms over their local environment."
Environment Secretary Therese Coffey defended the Conservative Party's stance, claiming that Labour's bill was "ill-considered" and criticising their record in Wales. Coffey argued that Labour had turned a blind eye to raw sewage dumping in Wales and accused them of playing politics in England.