The Met Office has issued more yellow weather warnings for snow and ice.
The warning for today, Wednesday 8, March covers the majority of South Wales, with Thursday's warning covering the majority of Wales. 
Spells of snow on Wednesday may cause travel disruption during Wednesday into Thursday morning.
Possible travel delays are to be expected with roads and railways being effected by the weather.
The Met Office warns that power cuts may occur and other services may be temporarily affected and that some rural communities could become temporarily cut off.
Untreated pavements and cycle paths might be impassable with a chance of injuries from slips and falls on snow-covered or icy surfaces.
The warning has been extended into Thursday morning mainly to include residual ice impacts that may persist into the morning travel period.
As snow clears on Wednesday night, clearing skies will result in ice developing on untreated surfaces with impacts lingering into Thursday morning.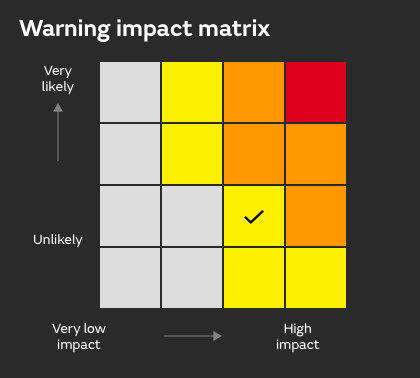 The Met Office's warning impact matrix for the snow and ice.
(Met Office )