Gavin and Liam Trinder from Abergavenny Garden Centre have planted a special tribute in recognition of the 75th Anniversary of the founding of the National Health Service in 1948.
Although it was admittedly "difficult" to find plants for this project, Gavin and Liam came up with the idea of planting New Guinea Busy Lizzies, with pale pink and white flowers and dark leaves to define the flowers. To complete the stunning display, they added blue Lavender and Silver Leaf.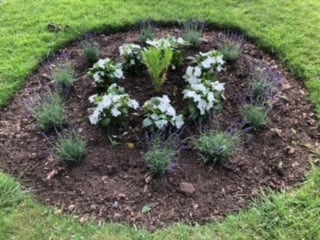 The smaller circular beds on either side contain white Busy Lizzies, Lavender and Cosmos.
(Friends of Bailey Park)
Abergavenny has been bursting with vibrancy and colour as the much anticipated 'Abergavenny in Bloom' is just around the corner .
A spokesperson from Friends of Bailey Park, said: "They have been very busy this season, and we, the Friends, are thankful that they have found time to plant up for everyone to enjoy when they visit Bailey Park. And we know that they do this all in their own time, so many thanks to you for your support.
"We hope  that this will encourage local people to go and visit Abergavenny Garden Centre in Llanfoist."