UK Deputy Prime Minister Oliver Dowden has leapt to the defence of Welsh Secretary David Davies, after a consultation leaflet the Monmouth MP put out on traveller sites was branded "hostile" to the gypsy community and reported to police.
The leaflet sent to constituents addresses the Labour-led Monmouthshire Council's current campaign to find new traveller and gypsy pitches in the county.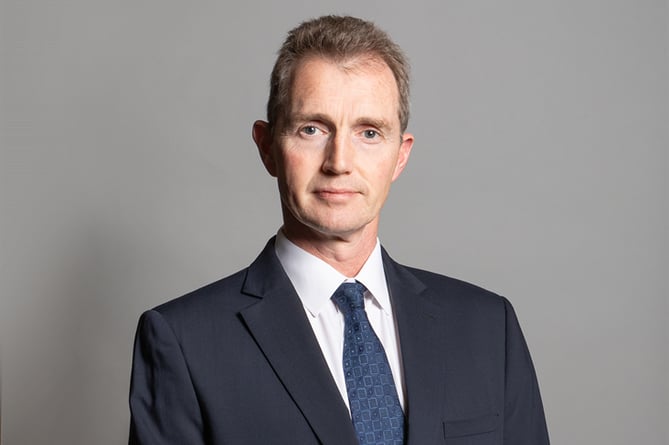 David Davies MP has defended the leaflet
(Houses of Parliament)
Headed "Gypsy and traveller site coming to your area soon", it asks "Would you like to see a traveller site next to your house? Y/N."
It follows protests by residents over sites proposed by the council in the Monmouth and Mitchel Troy areas, which were subsequently removed from a shortlist as 'unsuitable'.
An advocacy group now claims Mr Davies' leaflet is "intended to create a hostile environment for Gypsies and travellers".
But in an interview with Sky News, Mr Dowden said his colleague was simply "standing up for his constituents".
Asked if he thought the language on the leaflet was racist, the Deputy PM said: "No, and I think what David TC Davies was doing was highlighting the failure of the local Labour council to carry out a proper consultation on this. That is entirely what people would expect their local members of Parliament to do.
"He is standing up for his constituents, making their case for them and I totally support his right to do that."
Travelling Ahead, a group which supports Gypsy, Roma and traveller communities in Wales, posted the leaflet online, calling it "unacceptable", and said they had complained to the police, the Conservative party, and the Equality Commission.
It claims the leaflet is a "clear breach of the Equality Act, dog whistle actions intended to create a hostile environment for Gypsies and travellers".
The group's Trudy Aspinwall labelled it a "disproportionate and hostile response targeted at the race and ethnicity" of travellers, which would "make them feel like they are not wanted anywhere".
In a statement, Mr Davies hit back, saying: "The sites are a legitimate matter for public debate and scrutiny (and it is)... entirely valid to criticise a lack of wide public consultation by a council.
"I have been contacted by many upset residents at the shortness of the consultation and the proposed locations for the sites.
"I have also been told that many from the gypsy and traveller community are also upset at the proposed locations for the sites. This is not a criticism of the gypsy and traveller community."
Detective Inspector Steve Thomas of Gwent Police confirmed: "Officers are reviewing the content of the leaflet and its impact on the gypsy and traveller and settled communities in Monmouthshire.
"We take any allegation of discrimination extremely seriously and we're committed to ensuring our communities are safe places and welcoming for all."
A source close to Home Secretary Suella Braverman said the investigation "appears to be a waste of time".
"The police should be laser-focused on further cutting crime and not investigating legitimate public concern," they said
"The public want to see police out on their streets preventing crime and catching criminals, not inspecting MPs' leaflets."