A garden centre boss says approval for new housing on part of its site has led customers to mistakenly believe the business is closing. 
Russell Walker has confirmed the Willows Garden Centre in Usk is to continue trading and has said it will be unaffected by approval for six houses on a part of its site which is no longer in use.
Mr Walker, who runs the centre that employs eight staff with wife Anna, said since the planning application was approved he's been facing questions from confused customers. 
He said: "People have been jumping to conclusions and asking when are we closing? I just have to tell them we're not closing, there will be houses but it's not having any effect on the business it's on a piece of land that is no longer in use." 
Monmouthshire County Council's planning committee finally gave approval for the plans for six houses on part of the garden centre site at its April meeting. It had given in-principle support in December last year, but withheld formal consent until receiving assurances any flooding risk from the nearby Olway Brook had been considered.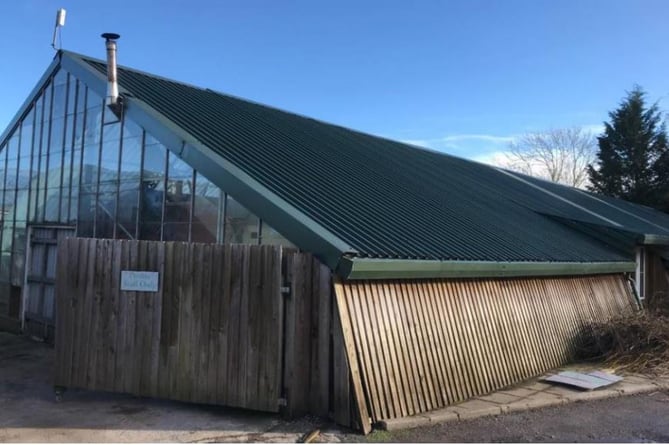 A greenhouse with a tin roof, that is set to be demolished, and currently used as a sales area at Willows Garden Centre in Usk
(Monmouthshire County Council)
The homes will be built where a large number of greenhouses, most of which aren't in use, currently stand on land to the side of the centre and behind homes on Mill Street. 
The planning application was submitted by landlord John Lewis, who had originally established the Willows Garden Centre some 40 years ago. Mr Walker, who took on the business 14 years ago, said he welcomed the development. 
"It will tidy the site up and be better for local neighbours who won't be looking out a derelict mess so it will be better all round and it won't really affect us as it's an area we're not operating from anymore," he said. 
Mr Walker said only one of the greenhouses had remained in use as a sales area and he had been unwilling to invest in repairing the structures as he was aware of the intention to redevelop for housing, with the application first submitted in December 2018. 
Since taking on the centre the couple have developed it to also include a coffee shop, children's soft play area, pottery classes and a packaging-free 'zero waste' food shop.
Mr Walker was 26 at the time and funded the purchase with money he'd saved in 10 years since leaving school and working at garden centres in Raglan and Abergavenny and as a dispatch manager at Allansmoore Nurseries, in Hereford, which supplies firms such as B&Q and Waitrose.
"Originally the business had grown tomatoes and that developed into a garden centre in the 1980s and I've always been involved in the industry and that's how I got to know the original owner and he said he was finishing and I asked if I could take it over," said Mr Walker. 
"We're not a big modern centre, we're a family run business and we still grow and produce some plants, but have developed the coffee shop and the soft play as otherwise it's a very seasonal business and you would be very dependent on the weather so things like that make it a year round business," said the now 40-year-old.
"When we first started on a day like today, when it's pouring with rain, you would hardly see a customer."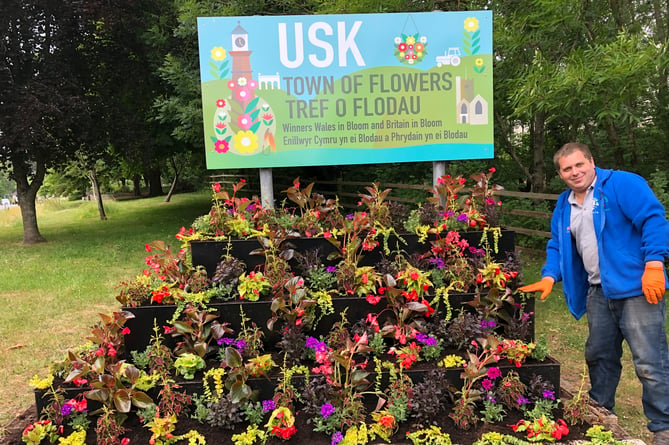 Russell Walker, the owner of Willows Garden Centre, which also supplies flowers for Usk in Bloom and 10 other towns
(Photo supplied)
However horticulture still remains at the centre of the business with it supplying and growing flowers for 11 towns that enter the Wales in Bloom competition, with Mr Walker's team watering displays throughout the summer in towns including Pontypool, Risca and Abertillery. 
Among the towns supplied are Usk and Abergavenny which won the Wales in Bloom gold award for towns for a second successive year in 2022 and has been nominated for the Britain in Bloom award this year.