A Conservative councillor has hit out at the Labour-controlled council for refusing to be drawn on how badly Monmouthshire residents will be hit by its proposed budget.
Cllr Tomos Dafydd Davies, who represents the Llanfoist Fawr and Govilon ward, challenged the Labour cabinet member responsible for setting the Council's budget for 2023/24, Cllr Rachel Garrick, during a budget scrutiny meeting.
During the committee, the cabinet member refused to be drawn how hard Monmouthshire residents would be hit by the Labour-run Council's proposed budget.
Commenting, Cllr Davies said:"With a proposed council tax rise of nearly 6% and proposed additional discretionary charges, including increasing the cost of school breakfast clubs, doubling the cost of school transport, and a 78% hike in household garden waste collections, households across Monmouthshire could be up to £1,399.51 worse off next year as a result of the decisions taken by the Labour-run County Council.
"At a time of immense financial hardship, it beggars belief the Labour-run authority can possibly justify hitting some of the poorest households across Monmouthshire with stealth taxes of this scale and magnitude.
"When the authority's own impact assessment confirms the increases to discretionary charges will disproportionately impact on people on low incomes and will widen inequality, it's time to think again and present a revised budget for the council's consideration.
According to the council's own financial impact assessment, a single parent with two children is predicted to be £784.47 worse off next year, whilst a family of five could be £1,399.51 worse off. A lone Monmouthshire pensioner would also be worse off by £752.33.
These increases are partly driven by the proposed 6% council tax hike, that will add £87 to a typical Band D property. A Band F property will pay an additional £126.88 per annum.
For families with children of school-age, from 2023/24 they will face footing a bill of £110 per child following the withdrawal of free school transportation. Where two children currently attend before school breakfast clubs, a family of four could face a bill of £780 per annum.
There are also planned increases in fees for social care services, both residential and non-residential, as well as increases in charges for community meals which will adversely impact elderly and disabled residents. Taken together, the authority's own modelling estimates these charges will hit affected residents by £560.44, based on 5 hours of care a week and the provision of daily community meals.
The authority's own impact assessment further confirms the increases to discretionary charges will "have a disproportionate impact on people on low incomes", adding that the proposed changes "will widen inequality."
Conservative Group Leader Cllr Richard John said, "If approved, these budget proposals will cost the average Monmouthshire family over £1,000 while the services residents receive are set to be cut.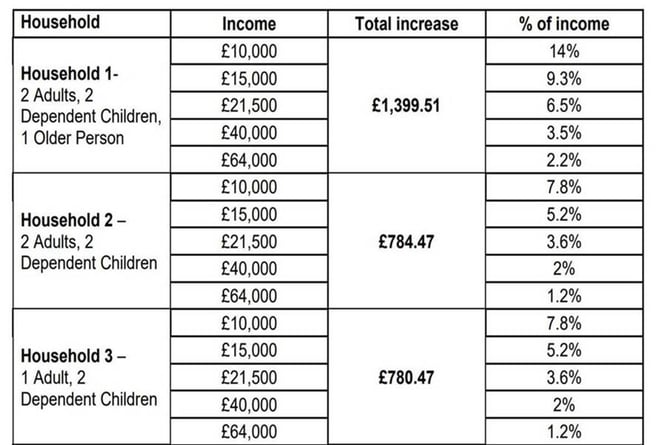 "Increasing council tax and cutting services is a really lazy approach to a challenging budget settlement. The administration ought to be innovating and delivering services differently and more efficiently to drive savings.
"The administration has failed to consider the cumulative impact of these proposals which will disproportionately hit the most vulnerable including children and older people."
The local Member of the Senedd Peter Fox MS, added: "As a past Leader of Monmouthshire County Council for some 13 years, and a cabinet member for many years prior to that, my colleagues and I always strove to introduce a yearly budget that would not threaten the most vulnerable in society.
"It wasn't always easy and difficult choices had to be made but making difficult decisions as an elected representative comes with the territory.
"Sometimes there are limited choices to be made and it's difficult, but there are always choices. That's what's key.
"Sadly, this plan will undoubtedly hard hit our most vulnerable and that is why I urge the council to re-think its plan."
Writing in the Abergavenny Chronicle this week council leader, Cllr Mary Ann Brocklesby defended the proposed budget saying: "Make no mistake, these are toughest of times to set a budget.
"Back in May, we inherited a tough situation from the previous administration, just as costs were skyrocketing. There was not enough to cover our energy bills, or the costs of supporting children and vulnerable adults, or to deal with the number of homeless people. We were dealt a £9-million shortfall but we have managed to get by, using our budgeting skills, making savings and by drawing on scant reserves, run down over previous years.
"In this year's budget, like every other Welsh council, we face an unparalleled gap between the cash coming in and spiralling costs of providing the services that matter the most to you. Costs will rise by a staggering 14%. But here's what we, as a Labour administration, are doing to keep your services running while investing in all our futures: we are using imagination, skill and a novel approach to change the way we work to meet your needs and deliver your services. "