Backyard ultra marathon raises £9000 for Mindstep
Wednesday 26th August 2020 7:35 am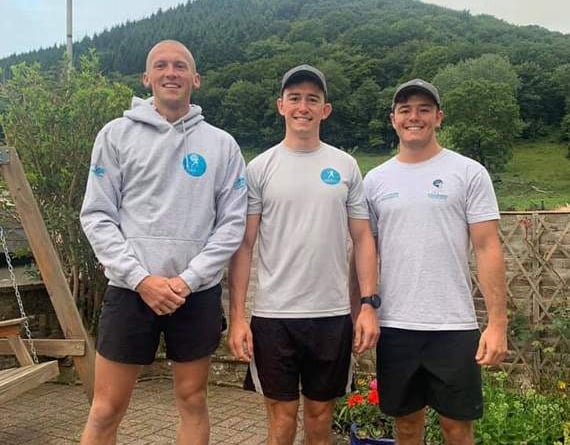 Rudi, James and Will
Subscribe newsletter
Subscribe to our email and get updates right in your inbox.
TWO brothers have completed an ultra marathon to raise money for a charity set up to research suicides.
Their mammoth event took place last month when brothers James and Will Smith and Rudi Lewis set off on a mammoth Backyard Ultra Marathon completing 100 miles in just 24 hours.
James and Rudi ran 4.2 miles on the hour every hour and Will completed the same distance on the rowing machine.
The team based in Llanfoist with the run taking place in and around Abergavenny, have managed to raise more than £4,900 so far which has very kindly be matched by James's employer, Convey Law, bringing the total to nearly £10,000.
This money will cover Mindstep's next instalment to the University of Glasgow for a PhD in suicide research.
James explained: "The challenge started well with many people turning up throughout the day to run laps and show support.
''After 16 hours, and as darkness descended on us, our bodies started to hurt! Then, at 11pm, the rain came. In our minds, we were determined to complete 100 miles in 24 hours and nothing was going to stop us.
''We battled on throughout the night with more incredible people coming out to run with us in the dark and wet.
''These were the most testing hours, and we were grateful to see fresh faces!
''At 4am, Rudi said to me "it's always darkest just before dawn", and with that daybreak came and lifted our spirits. We were joined on the final lap by the Davies family and other supporters, who spurred us on to finish the challenge. 
''We were overwhelmed by the support shown for us, but more importantly, people were there to support the charity.
''On each lap, we discussed mental health with different people who were instantly engaged with the issues surrounding mental health and depression, as everyone is affected or knows someone who has been affected in some way. 
''We have raised over £4900 for the foundation which is very generously being matched by my employer Convey Law.
''We are so grateful for those who supported us on the day and to those have donated to the cause."
The Mindstep Foundation is incredibly grateful to James, Will and Rudi for undertaking this impressive challenge in aid of the Mindstep Foundation.
The Mindstep Foundation has been established to help fund mental health research, awareness and support.
The charity was founded by the family of Max Davies, who devastatingly lost his battle with depression in August 2018. Max had been struggling for a year with clinical depression and despite regular counselling, medication and total family support, he could not be saved.
Over 80 men in England and Wales take their own lives every week – over 11 every day – over 4000 a year.
Suicide is a hugely sensitive, complex issue with a multitude of causes. The very nature of a death by suicide means we can never fully know the reasons behind it. By funding research at the University of Glasgow into the causes of suicide, and working to raise awareness of both the warning signs and consequences of mental health conditions going untreated, the Mindstep Foundation aims to break the stigma attached to admitting, confronting and dealing with mental health issues.
Mindstep's commitment to funding research requires raising £100,000 over the course of the next 24 months. Whilst this is a huge undertaking, we are incredibly grateful to those who have already donated, as well as those who continue to fundraise on behalf of the charity.
Together, we hope we can overcome this awful pandemic.
Comments
To leave a comment you need to create an account. |
All comments 0